Today is my son Alexander's birthday.
He came into the world 19 years ago and spent his first 77 days in neonatal intensive care. Now he is a grown up Queens College sophomore and college sportscaster living his dreams and making a difference in the world.
We are eternally grateful to the AMAZING neonatal staff at St. Luke's Roosevelt Hospital, led by Dr. Farrokh Shahrivar, M.D.. The team of doctors and nurses nurtured Alex through a fragile time and helped him become stronger and healthier. I cannot even begin to tell you what they did for Alex's Dad and I.
Alex's dad has brought him back to the NICU to say hello, and thank you, on every birthday since he "graduated." This year the he visited a little early when the NICU has a special party and Alex was asked to speak, as a "elder statesman" of sorts. I was touched and thrilled to see the same nurses and doctors–still there, helping tiny babies survive and thrive. They are the best caregivers on the planet.
Carol Rubiano, a media representative of the hospital, sent this terrific story and photos that I wanted to share:
Halloween came early when graduates of Roosevelt Hospital's Neonatal Intensive Care Unit and their families donned costumes for a reunion of NICU alumni and NICU staff on Sunday, October 10.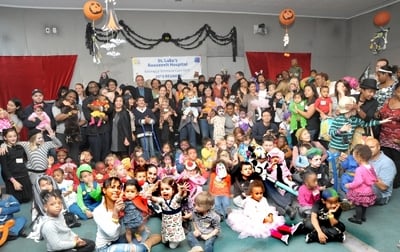 Months in the planning, NICU nurses were the organizers who sent out invitations, signed up volunteers, put up Halloween decorations and entertained the guests with their singing. Several hundred people — infants, toddlers, young kids, teens and adults — flowed from room to room for various family fun activities.
Many of the NICU graduates, some born under two pounds, ended up in the special care unit for a variety of reasons, including prematurity, underweight, and other complications. They are now grown and healthy.
Alexander Garrett, an NICU alumnus from 1991, reflected on his own experience and expressed gratitude to the dedicated NICU staff who attentively care for helpless and often very ill babies so that "they can survive and get started on the road to independence."
"Our nurses, led by Nurse Manager Nori Yaun, did a terrific job of putting the event together," said Farrokh Shahrivar, MD, Chairman, Pediatrics, and Director of Neonatology at St. Luke's and Roosevelt Hospitals. "It felt great to see all the children be reunited with people who took care of them during the first days, weeks and months of their lives."
Photo Captions:
1.Farrokh Shahrivar, MD, SLR Chairman of Pediatrics and Director of Neonatology (l) and Nori Yaun, RN, NICU Nurse Manager (in hat), welcomed NICU graduates: (r-l) Alexander Garrett, NICU Class of 1991; and the Vargas-Zayas siblings Melissa ('94) Christopher ('00) and Jeannette ('93) whose little brother Noah, born on September 11, 2010, is currently in the NICU.
2. Graduates of Roosevelt Hospital's Neonatal Intensive Care Unit reunited with doctors, nurses and other staff at a pre-Halloween gathering on Sunday, October 10th.