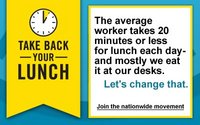 At noon on Wednesday, June 23rd, a new "movement" will be launched and it is designed to help workers step away from their offices and into nature.
It's called "Take Back Your Lunch," and it will be held on successive Wednesdays throughout the summer in public parks across America. The organizers are workers to stand up, step away from their computers and take back a benefit that's rightfully theirs – LUNCH.
Here's what the press release says: "According to one recent poll, the average person takes less than 20 minutes for lunch per day. Far too many of us have given up our lunch break in the face of relentless demand, or settled for eating at our desks, hunched over our computers."
"Human beings aren't meant to run like computers – at high speeds, continuously, for long periods of time. Numerous studies have shown that working long hours without a break takes a toll on our health, on the quality of the work we do, and even on our productivity."
"By taking back our lunch – and getting outside our offices – we not only give ourselves time to renew and recharge, but also to return to work more energized, more focused and more productive. It's good for us and it's good for our employers."
Take Back Your Lunch was inspired by Tony Schwartz's new Wall Street Journal and New York Times bestseller, The Way We're Working Isn't Working: The Four Forgotten Needs that Energize Great Performance. Take Back Your Lunch is being sponsored by The Energy Project, which is dedicated to fueling a more engaged workforce by helping organizations meet the core energy needs of their employees.
Visit the website for more information on Take Back Your Lunch, The Energy Project, or to organize your own TBYL event.