Remember the big, red LOVE statue that stacked the LO over the VE and presented the word as a work of art? Well the same sculpture who wanted to fill the world with love would now like to cover it with HOPE. See this inspiring feature on him on The Today Show.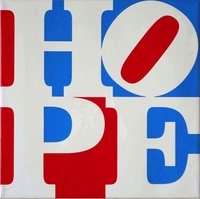 Robert Indiana's LOVE works created a pop-culture phenomenon in the 60's and have remained immensely popular amongst collectors and as a prevalent image in American pop culture. Indiana brought LOVE to a nation at war, and inspired John Lennon to write "All You Need is Love."
Now in his 80's, Indiana has re-fashioned the simplicity and beauty of the LOVE with the new HOPE image as a contemporary symbol of our moment in history.
HO to the PE, that spells HOPE.
See this inspiring segment on Robert Indiana–and his desire to bring HOPE to our challenging times–on the Today show.