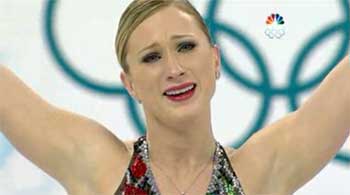 Figure skater Joannie Rochette's story is a difficult one to write because it's a very personal one: Just a few days before the individual female figure skating competition was to begin, Rochette's mother, Therese, arrived in Vancouver but suffered a sudden, massive heart attack instead. Rochette's father, Normand, found his wife passed out in the apartment they were staying at; he brought her to a hospital, but she passed away at 55-years-old.
Despite the unexpected, tragic news and circumstances, Rochette remained strong and decided to stay in the competition. Hours after her mother passed away, Rochette was practicing on the ice, wiping tears away intermittenly, as all her eyes were on her.
On Tuesday night, Rochette gathered her courage and strength once more to skate in the women's figure skating short program. She took a few deep breaths and then began her smooth performance to soulful French music. The audience clapped along and cheered when she landed successfully after every jump. It was hard not to be touched by her beautiful skating and by the audience's overwhelming support. At a time when she could have easily given up skating to grieve, she remained poised and confident instead. Only at the end of her performance did she broke down in tears; every emotion she was holding back came out, but the crowd reception was amazing. Her performance placed her in the top three behind Olympic favorites Yu-Na Kim (South Korean) and Mao Asada (Japan).
At 24-years-old, Rochette and her family are from a village in Quebec called Île Dupas where a street is named after her. As an only child, Rochette had a very close relationship with her mother who constantly supported and encouraged her daughter to skate her best. In 2008, Rochette said, "My mom, who was always close to me, took more distance from my skating for the last couple of years…She has always been the most critical person about my skating, pushing me harder to improve." (Sports.Yahoo.com)
Four years ago, after returning home from the Winter Olympics in Turin, Rochette was also confronted by tragedy: One of her training partners, Andreanne Rousseau (then 14), had died in a car collision. Then, Rochette took a week off from skating to bury Rousseau and to mourn.
As Rochette prepares for the medal-defining long program tonight, everyone will be rooting for her to succeed and take the podium like her fellow Olympic roommate, Tessa Virtue, who won a gold medal earlier this week in ice dancing with her partner, Scott Moir. There's no doubt Rochette is a very capable, strong young woman who can turn tragedy into triumph.
Read more on Joannie Rochette: