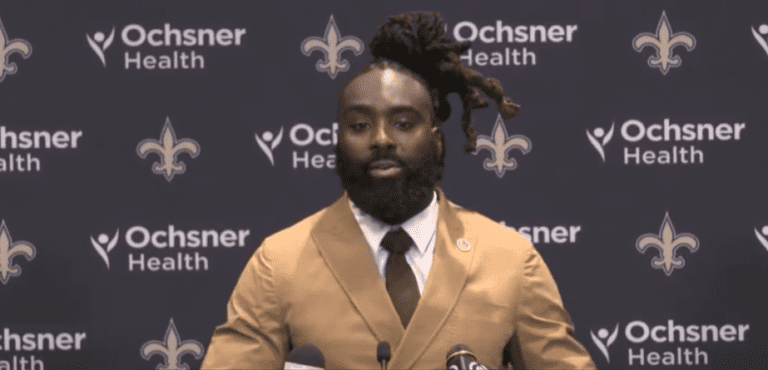 Demario Davis, the leading tackler on a defense that led New Orleans to an opening-week win, recently used his post-game news conference to read scripture and testify of God's healing power during a medical scare with his four-year-old daughter.
The linebacker led the Saints with nine solo tackles during the Saints' 16-15 win over the Tennessee Titans. However, Davis didn't discuss football during his five-minute meeting with the media. He said, "We play this game on Sunday, and it's really the Lord's Day. On a day we should be worshipping the Lord, a lot of times, players are getting worshipped. Since so many of us didn't get to go to church today, I have a word that I want to share."
Then, Davis, a 2023 Pro Bowl selection, read Revelation 3:20 before discussing his daughter's medical scare. A video of his news conference has over 1 million views on X, the social media platform formerly known as Twitter. Davis said, reading from the Bible, "See, I stand at the door and knock. If anyone hears My voice and opens the door, I will come in and dine with him and eat with him, and he with Me. I want to tell you all about a knock that I heard this week."
Davis said his four-year-old daughter was playing with friends when she suffered a major epilepsy seizure attack, which he described as her "worst seizure" ever. It lasted for approximately 30 minutes. As paramedics took his daughter to the hospital, his wife boarded the ambulance, and he drove behind in his car, saying he was nervous. Davis said, "I'm praying, and I'm trusting, and I'm believing. I'm not just asking for my daughter to make it through. I'm asking that she's better than before."
Once at the hospital, his wife told him their daughter stopped breathing twice in the ambulance. He said, "You start to fear there could be development issues that could mess with her brain. So we prayed, and we prayed, and she had medicine, and my wife and I had to stay overnight at the hospital. And in the middle of the night, probably about 3 o'clock, I heard a knock – and the knock was my daughter."
Davis said his daughter was talking, saying, "I prayed for her. I said, 'God, let this just be an attack from the enemy that's just trying to be a distraction and let him have overplayed his hand, and my daughter come back stronger than before.'" According to Davis, his daughter was talking clearer than before. They let her talk for about 20 minutes before encouraging her to go back to sleep. He said it typically takes a few days for someone to get back to normal after a seizure. The following day, she woke up speaking just as clearly.
Davis was fascinated by her progress. Hours later, she was playing again with her friends. He said, "She had been playing with the kids the day before. And then, she had the worst seizure that she ever had. And the next day, she's back out there playing with the kids." Davis concluded his thoughts, saying, "We get to play this game, and it's great. And there's so many amazing things that happened in that game, and everybody wants to hear about them, but when we leave this game, we go back to being regular people, and regular people are living life, and people are waiting for a knock. God gave me just what I asked for, plus some. I was blown away."
Davis asked the audience to consider how his story can apply to their lives."If you've got stuff going on in your life, lay it before the Lord, lay it before the Lord and trust – and be expecting of a knock," he said. "Because the Word says [that] what you have to do is you have to get up and open the door. He's not going to open the door for you. He's going to knock, but you have to be listening and waiting for the knock, and when you see it, you have to get up and open the door. And your blessing is gonna be there."