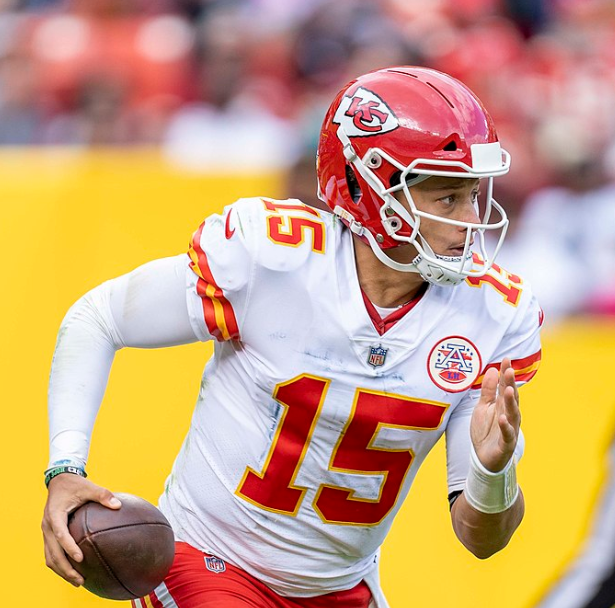 Superstar QB Patrick Mahones played the AFC Championship game with a high-ankle injury, giving the closest thing to a Michael Jordan-esque performance that a football player can provide, beating the Cincinnati Bengals 23-20.
Mahomes put the Kansas City Chiefs ahead in the fourth quarter with a five yard run. While attempting to run out of bounds, Bengals defensive end Joseph Ossai pushed Mahomes, picking up a penalty. Ossai was penalized for unnecessary roughness, moving the Chief up 15 yards. Then, Chiefs kicker Harrison Butker nailed a 45-yard field goal to give Kansas City the lead and eventually the win.
Faith was on Mahomes' mind as he talked to CBS' Tracy Wolfson after the game. He said, "First off, I want to thank God, man. He healed my body this week to battle through that. He gave me the strength to be out here."
Referring to the trash talk the Bengals gave the Chiefs during the week, Mahomes added, "I was with this team, man. I said it from the beginning; when we were in the locker room, I said we have to be together, and this team stepped up. It's a great football team, and we showed this place that it's Arrowhead; it's not Burrowhead out here." As he limped around Arrowhead Stadium, Mahomes was still 29-for-43 passing with 326 yards, and two touchdown passes, with eight rushing yards.
The last time the Chiefs advanced to the Super Bowl, they fell to Tom Brady and the Tampa Bay Buccaneers, 31-9, in February 2021. Before that matchup, Sports Spectrum asked Mahomes about his faith in God and how it guides him.
"It guides you as you know why you're playing the game," he said. "You know that, obviously, you want to win, but at the end of the day, you're doing it for something that's much bigger than yourself, and you're trying to represent something that's much bigger than yourself. I think having that confidence and having that trust lets you go out there and be who you are and play freely."
In a 2020 video for Fellowship of Christian Athletes, Mahomes said, "My mom and dad both raised me in the church. Just being able to come up through the church, I built a great relationship with God, and I've tried to keep that as I've gotten older. Faith is huge for me."
Amidst all the success during his first six years in the NFL, Mahomes aims to glorify God in his actions. "Before every game, I walk the field, and I do a prayer at the goalpost. I just thank God for those opportunities, and I thank God for letting me be on a stage where I can glorify Him," Mahomes said in the FCA video. "The biggest thing that I pray for is that whatever happens, win or lose, success or failure, that I'm glorifying Him."
His next chance to do so will be in Glendale, Arizona, at the Super Bowl against the Philadelphia Eagles. Good luck to Patrick Mahomes and the Kansas City Chiefs!