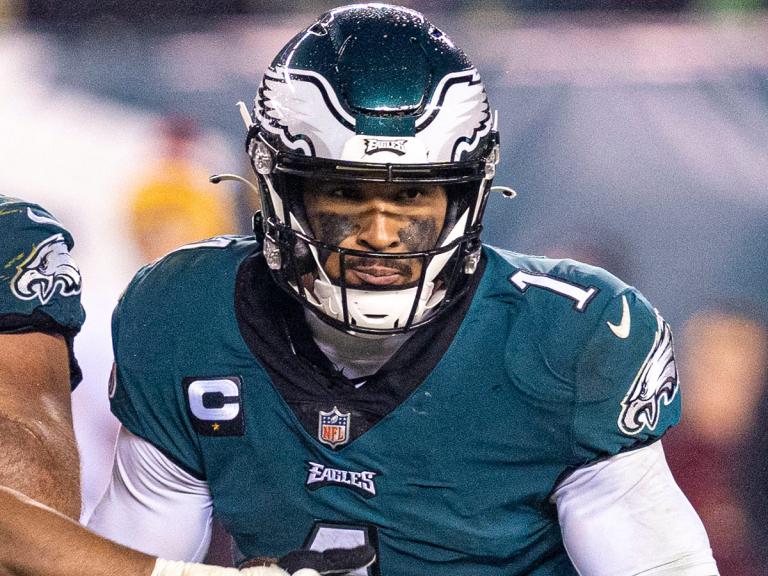 After his dominating performance, Philadelphia Eagles' quarterback Jalen Hurts revealed there was a point in his career where everyone didn't believe in him being a franchise leader. The Eagles won their first Super Bowl berth since 2017 with a win over the San Francisco 49ers.
During his postgame presser, a reporter asked Hurts to reflect on his first year in the league when former head coach Doug Pederson was fired to become a Super Bowl contender two seasons later. The former second-round draft pick took the opportunity to note that some people weren't happy with his being in Philadelphia at the time.
Hurts said, "Well, my first year here, I mean, they probably didn't even want to draft me here. Probably one of those things, but it always handles itself." He was asked later on to elaborate on who it was that didn't want him. Hurts avoided any specifics but did explain that his faith played a role in his perseverance.
"I know that it was a big surprise to many. A big surprise to many. But my favorite verse – you know, I went through a lot of stuff in college, and it kind of stuck with me — John 13:7, 'You may not know now, but later you'll understand.' Hurts ended by saying he hopes that people will understand.
Hurts finished 15-of-25 passing for 121 yards and ran for 39, improving to 16-1 as a starter this season. "I never knew how far we'd go," he added, "but I never said it couldn't be done."
Jalen Hurts enrolled at Alabama, where he was the Crimson Tide's starting quarterback for two seasons before playing as the team's backup as a junior. He then transferred to Oklahoma for his senior season, where he replaced Heisman Trophy winner Kyler Murray and Hurts produced a Heisman finalist season of his own. In games in which Jalen Hurts appeared in college, his teams went a combined 51-5. In each of his first three seasons of college, his team only lost once, and he appeared in seven College Football Playoff games in his career.
The quarterback played under his father, Averion Sr., the Channelview High School head football coach. His father has coached for over nine years at Channelview after graduating from the high school in 1986. Jalen Hurts' father decided to pursue football coaching as a career and went to Howard Payne University to get his degree. His father played football and ran track while attending the university. Hurts' father joined Channelview in 2006 after coaching at Baytown, Texas' Lee High School.