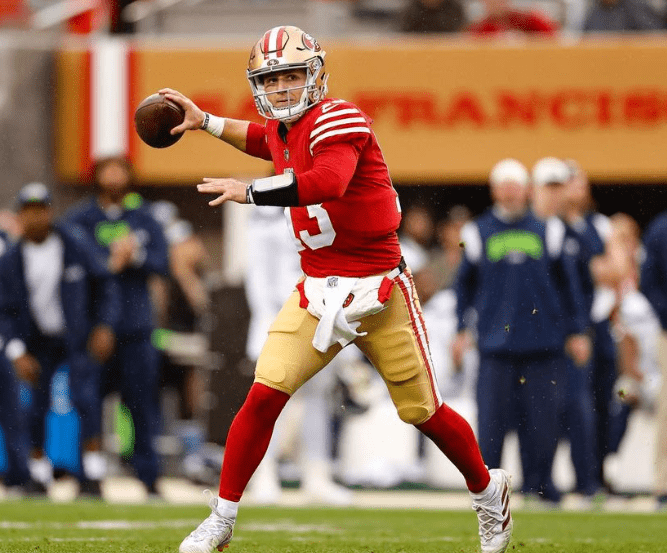 NFL quarterback Brock Purdy is crediting his Christian faith for a heart of gratitude and giving him confidence to lead his team. Purdy arose to starter after a series of injuries bumped him from his initial position as the third-string quarterback.
In August 2021, Purdy told Sports Spectrum his "identity is in Jesus." Purdy, 23, shared the faithful revelation after admitting he once elevated football above his relationship with the Lord, a sin for which he sought God's forgiveness.
"It was just a great reminder of where my identity is, where it lies," he told Sports Spectrum. "And it's in Jesus. And I continue to lean on Him. Again, the next day I didn't go out and throw for 500 yards and was this awesome quarterback, but it was just this peace that I had with Him knowing that, 'Hey, no matter what, I'm going to face moving forward during college football, God and Jesus are going to be my identity. And whatever I face, I won't be shaken from it.' I've got a great foundation in Him."
"The bottom line, my identity is in Jesus."

49ers QB Brock Purdy with poignant words on his faith in Christ from August 2021 pic.twitter.com/PlNtmcngMZ

— Sports Spectrum (@Sports_Spectrum) January 19, 2023
In his Instagram bio, Purdy describes himself as a "believer in Jesus." He wrote in one Instagram post alongside a picture of himself pointing upward, revealing a white wristband with a black cross, "The Lord is my rock, and I will not be shaken. I love you boys and will go to war with y'all time and time again."
Following the 49ers' first win after he became quarterback, Purdy said he plays with a sense of "fearlessness." He told reporters, "You go out there, you prepare as best you can, you get better every single day at practice, and once you get your opportunity, it's: What are you going to do with it?"
Purdy was drafted No. 262 in the 2022 NFL draft by the San Francisco 49ers after playing four seasons for Iowa State. As the last pick of the draft, he was given the title of "Mr. Irrelevant," a nickname given to the last overall pick since 1976.
Former San Francisco 49ers receiver Paul Salata created the tradition by inviting the last pick and his family to "Irrelevant Week" in Newport Beach, California, according to NBC Sports. The festivities include a trip to Disneyland and the Lowsman Banquet, where Mr. Irrelevant is presented with the Lowsman Trophy, a parody of the coveted Heisman Trophy.
Purdy has pulled off many impressive feats since taking over with his ability to extend plays adding a new element to a dynamic San Francisco offense. As long as Brock Purdy keeps God first, he'll continue to be successful.