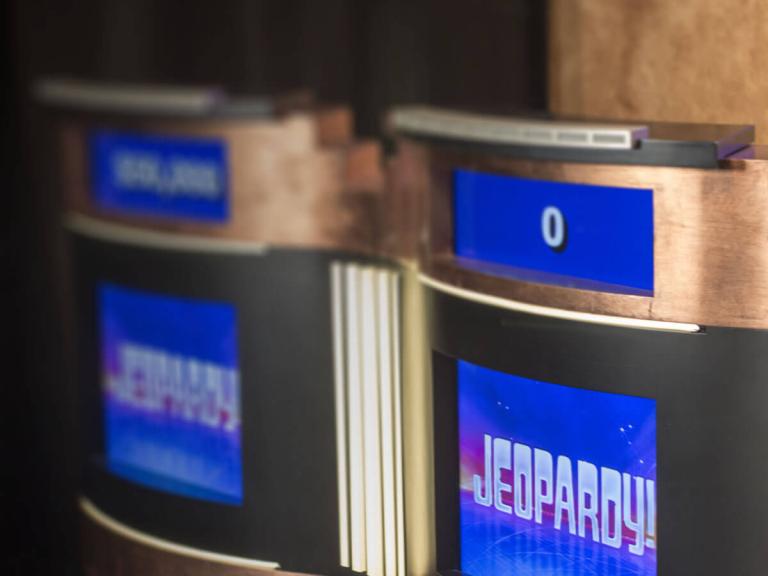 Controversy ensued after a contentious Final Jeopardy clue on Wednesday. Former champions Andrew He, Amy Schneider, and Sam Buttrey faced off in Wednesday's game for Jeopardy!'s "Tournament of Champions," which pits former champions against one another. The first to win three rounds wins the championship. During Final Jeopardy, host Ken Jennings asked the contestants this question: "Paul's letter to them is the New Testament epistle with the most Old Testament quotations." He, most likely referring to Philippians, wrote "Philipiaes," which was declared the wrong answer, as was Buttrey's answer of "Romans." Schneider wrote, "Who are the Hebrews?" which Jennings stated to be the correct answer. With Buttrey's wrong answer, He won the round, putting him one win away from ultimate victory.
Controversy arose soon after because, as one theologian wrote on Twitter, "The challenge: Hebrews has the most OT quotes of any NT letter; it was historically attributed to Paul, but today most argue he didn't write it based mainly on internal evidence. (Romans is right if Paul didn't write Hebrews.)." Had the book of Romans been deemed correct, fan-favorite Buttrey would have won the round over He. Other historians and theologians chimed in with their agreement on social media and shared sources.
Although Hebrews has historically been attributed to Paul, several factors have led Bible scholars to believe the book was written by someone else. One reason for this is that the writer of Hebrews states in Hebrews 2:3 that he received the Gospel through an apostle. This contradicts more established Pauline letters like 1 Corinthians and Galatians, where Paul states he received the Gospel directly from Jesus. Also, despite the book of Hebrews being filled with Old Testament quotes, the quotes are taken from the Septuagint, which is the Greek translation of the Old Testament. In other letters attributed to Paul, he always quotes the Masoretic text, which is written in the original Hebrew, or he paraphrases it. Also, the lack of a greeting in the letter is uncharacteristic of Paul.
Despite some inconsistencies, Clement of Alexandria suggested that perhaps Paul wrote the letter originally, but Luke later translated it. Eusebius referred to Clement's belief in his church history writings, saying, "[Clement] says that the Epistle to the Hebrews is the work of Paul and that it was written to the Hebrews in the Hebrew language; but that Luke translated it carefully and published it for the Greeks, and hence the same style of expression is found in this epistle (Hebrews) and in the Acts (written by Luke c. 60's to 80's AD)." Others believe it is more likely that someone like Barnabas, who was a Levite and would have had an interest in the Levitical priesthood the book refers to, wrote the letter.
Whoever wrote the epistle, Paul having written the book of Hebrews, is far from being universally established. As Thomas Shreiner wrote for Lexham Press, "All the theories are guesses, though some are fascinating and alluring to be sure. We don't really know who wrote Hebrews. No theory of authorship has won the day and for good reason, for the answer to our quest lies outside the domain of historical knowledge. Origen's words about the author still ring true today: 'God only knows.'"