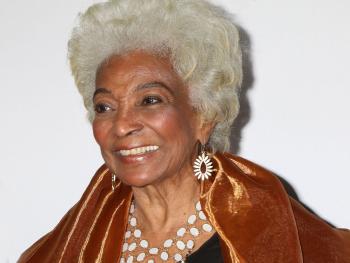 As word of Nichelle Nichols's death on Sunday was shared by her son, Kyle Johnson, tributes from former costars like George Takei and William Shatner as well as people who she impacted like director JJ Abrams and Levar Burton came pouring into social media. Nichols was most famous for her role as Lt. Uhura on the popular show, "Star Trek." One notable tribute came from Dylan Novak, who goes by the name "Celebrity Evangelist" online. Novak is known for traveling around the world with the intention of sharing the Gospel with celebrities like Nichols and posted on his Facebook about his encounter with her in 2016 at a comic con convention. After sharing the Gospel with her, Nichols revealed she was already a Christian but was deeply touched by his efforts, saying, "No fan has ever cared about my eternal life before." She then asked if he would be speaking to her costar, William Shatner, whose line was next to hers. Nichols gave Novak $100 to cover the cost of being in Shatner's line, saying, "It's on me. Go show him Jesus' love." She later said she would pray for Shatner.
Born Grace Nichols in Robbins, Illinois in 1932, Nichols first started out at 16 singing with Duke Ellington. Landing the role as Lt. Uhura was particularly notable at the time because it was one of the first times a black woman was featured in such a major role on television. The role was also one of the first to show an interracial kiss between Nichols and Shatner in the 1968 episode, "Plato's Stepchildren." Despite the weight her role played in opening the doors to other black actors, Nichols revealed in an interview for the American Archive of Television that she had been tempted to leave the show after the first season to pursue a career on Broadway. However, a fan by the name of Martin Luther King, Jr. convinced her to stay.
The Civil Rights leader met with the star while she was on a break to consider her resignation from the show. When Nichols told him about her plans to leave, he was adamant that she remain so that people like his children could see the possibilities for a black person in America. "If you leave, that door can be closed because your role is not a black role and is not a female role; he can fill it with anybody even an alien," he told her. Thankfully, Nichols listened and remained on the show until its cancellation in 1969 and continued to play Lt. Uhura in subsequent movie and television adaptations. She had a stroke in 2015 and retired from convention appearances after a diagnosis of dementia in 2018. She was 89 years old and passed away from heart failure in Silver City, New Mexico, survived by her son, Kyle.