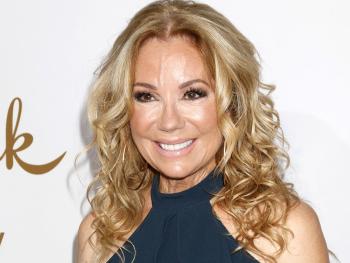 Kathie Lee Gifford sat down with Billy Hallowell and Tré Goins-Phillips on their podcast, "Prodigal Stories" to discuss her Christian faith and her new Christian film, "The Way." Gifford started the interview discussing how she came to Christ as a 12-year-old girl. She credited film with her conversion to Christ sharing that, "…Jesus spoke to my heart through a movie that the Billy Graham organization put out, and I've never been the same since." She also discussed how her faith helped her through very difficult and public controversies in her life, such as being called out for having clothing lines made in "sweatshops" and the very public infidelity of her husband, Frank Gifford. "It's all I had," she said regarding how her faith held her up through those experiences. She and Frank received counseling and remained married until Frank's sudden death in 2015. "There are no crumbs on God's table. You can use every calamity," she said. She also discussed how her love of Jesus helped her to end a 30-year feud with radio personality, Howard Stern.
Having come to Christ through a movie experience, she stressed the importance of using media to reach others with the Gospel. "The devil doesn't own the airwaves… Everything belongs to God, and we need to reclaim them for His Kingdom." She detailed her work on making "The Way" which has been a project of love, involving many of her friends in the production. The movie is a series of oratorios, narrations set to music, that will tell Biblical stories through a one-night only event in theaters September 1st. She spoke of her excitement to focus on telling stories about God. "I realized, 'Oh my Gosh, this is what I'm supposed to do for the rest of my life.' I'm supposed to take these unbelievably powerful, epic stories of people in the Bible and bring them to life in a brand new way that no one's ever seen before." She also encouraged Christian content makers to make top-notch material, avoiding "dreck" and striving for "excellence."
For many years past, Christian content was looked at as a somewhat cheesy, low budget affair. However, in the past couple of decades, particularly with the 2004 release of Mel Gibson's "The Passion of the Christ," Christian movies and media have become more and more mainstream and of better quality. The Kendrick brothers have released a number of popular Christian films with commercial success, including "Fireproof," "Courageous," and "Facing the Giants." PureFlix.com came onto the scene in 2015 after the success of the film, "God's Not Dead," as a family-friendly alternative to streaming services like Netflix. Angel Studios released the very popular show, "The Chosen," which depicts the life of Jesus. With content concerns and cultural messaging leading Christian parents to look for alternatives to pastime favorites like Disney, the time for Christian media alternatives is more ripe than ever. The advent of crowdfunding resources is also broadening who can enter that gateway, with popular Christian content like "The Wingfeather Saga" being produced by the funding of fans. Based off the popular children's series written by Christian Andrew Peterson, "The Wingfeather Saga" was able to raise $5 million dollars in 20 days and will release its first season December 2nd on Angel Studios. It is currently seeking funding for the second season, with seven seasons planned in total. With so many options, it seems Gifford is not the only one who should be optimistic about the future of media and telling God's stories.