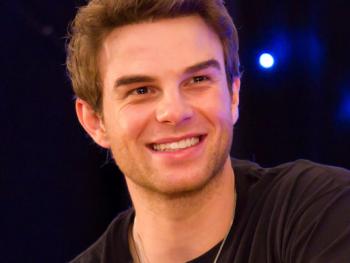 Australian actor Nathaniel Buzolic took to Instagram late last month to share an image of Mount Gerizim. The actor, who played Desmond Doss's (played by Andrew Garfield) brother 'Hal' in "Hacksaw Ridge" and had a role in "The Vampire Diaries," shared the image along with a commentary on the mountain's importance. The mountain is mentioned in Deuteronomy 11:26-29 as a mountain where the Israelites were to proclaim God's blessings after they inherited the Promised Land. Buzolic also pointed out the mountain behind Mount Gerizim, Mount Erbal. "The mountain on the other side is called Erbal," he wrote. "Here the 6 remain[ing] tribes of Israel would recite the curses *IF they chose to not follow G-d, *IF they chose to be disobedient to His ways & words." Buzolic continued to muse on the significance of the two mountains, writing, "The only mystery that remains is why man enjoys rebellion so deeply even when he knows what the end result will be if he does so." He then concluded his post with, "A Love of G-d is the ultimate key to obedience and a lack of love is what leads to rebellion."
Buzolic, a Christian, has often posted about his love of Israel and the dangers of rebelling against God. Last December, he shared an Instagram post quoting a passage from the story of the Tower of Babel. The post shared an image of the Burj Khalifa, a tower in Dubai. In the Biblical account, the people of Earth built the Tower of Babel as a way to distinguish themselves. "This plan was not to glorify God but to glorify self. To not honor God's Glory but To rival God's Glory with His own," wrote Buzolic. Famously, the people in the Biblical account were confused by their languages suddenly changing and scattered throughout the land. In a 2018 interview with "Insights," Buzolic discussed how he came to Christ at the age of 27. "For me, I got to a place where I challenged the Bible, I challenged what Jesus said, I applied it my life and I saw a huge difference. One of the greatest gifts that I have ever been given with [The Originals] is that I have had the privilege to travel the world and do fan conventions and more and more I have become confident to share my faith with thousands of kids," he said.
The actor also has a profound connection to Israel and is a seasoned traveler, taking tours to Israel according to Israel Tour Leader. In April of this year, he posted criticism of the way the media handles terrorist attacks in the UK versus similar attacks in Israel being labeled acts by "gunmen" rather than "terrorists." "The world talks about racism, terrorism, and peace, but not when it concerns the Jews," he wrote.