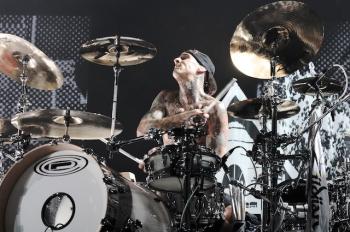 Legendary musician and husband to Kourtney Kardashian, Travis Barker has been rushed to the hospital.
His daughter Alabama Barker took to social media to ask for prayers for her father amid hospitalization.
The 16-year-old posted an Instagram story that read "please send your prayers."
Travis and Kourtney went to a hospital in Los Angeles when the medical crew there felt the drummer needed serious medical attention. He was put on a stretcher with Kourtney by his side and taken to the famous Cedar-Sinai Medical Center. Kourtney was seen wearing all black and not a smile in sight.
Travis had just posted this cryptic message to his Twitter so it seems whatever health issue he's dealing with is very serious.
God save me

— Travis Barker (@travisbarker) June 28, 2022
This isn't Travis' first scare either when it comes to his life. Barker survived a horrific plane crash back in 2008 where he was only one of two survivors. Travis suffered major burns on over 65 percent of his body which required nearly 30 surgeries. While Barker bounced back with tenacity he was left with PTSD from the crash and up until recently only traveled via car or bus.
Barker may be covered in tattoos and comes with a rocker persona but what most people don't know is he's deeply religious. Travis is a devout Christian who prays daily with his children. When it comes to his religion Travis means business! Many of the drummer's tattoos are actually inspired by his faith and you can find more than one cross tattoo if you look closely.
It's unknown at the moment what caused Barker's hospitalization but whatever the case prayers are certainly needed.