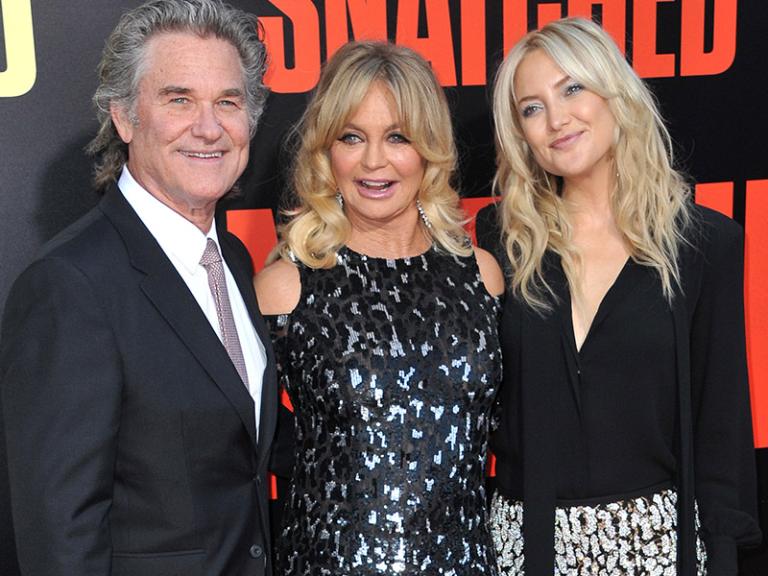 Father's Day is a great day for moving tributes to dads and Kate Hudson offered up one such acknowledgment to her "pa," Kurt Russell. Russell is her mother, Goldie Hawn's, longtime partner of nearly forty years and the star has long considered him her father after her estrangement from her biological father, musician Bill Hudson.
Hudson, 43, shared the tribute on Instagram with a past picture of her and Russell snuggled together on a bed. "Fun, adventurous, passionate, determined, honest, devoted, amazing father and the best head of hair in Los Angeles! Lucky us! Love you Pa! Happy Father's Day."
View this post on Instagram

Despite not having his own social media presence, Russell was able to respond back through Hawn's Instagram. Hawn responded saying, "Honey I showed this to daddy. Here's his message…" Russell's response followed, saying, "Birdie, mommy just showed me this picture, this is a perfect Father's Day present. I've never seen it before. Wow…it's a killer. Lotta water under the bridge…it's kinda hard to see it though cause all the water seems to somehow have found its way into my eyes…thanks for making me the luckiest father in the world sweetheart. I love you, Pa."
Both Hudson and her brother, Oliver Hudson, 45, have been known to lovingly speak about their "pa," with Oliver discussing some of his teenage antics that led to him being arrested for late-night misuses of a paintball gun. "He was not a happy dad," Hudson recalled of Russell's reaction in an interview earlier this year. Despite the difficulties that come from not really knowing their biological father, both actors have always praised Russell's impact on their lives.
"Never missed a school play, a soccer game, a hockey game, a dance recital and the list goes on and on. No matter what he was doing in his busy life, he always showed up. Not because he had to but because there was no other place on earth he would rather be than with his family. We felt the purity of that our whole childhood and my gratitude for his love is immeasurable," Kate wrote in 2015 tribute for Russell's birthday. Her brother responded with similar sentiments, saying, "Happy birthday to the greatest dad in Santa Monica…I love you more than you realize… Before you came into my life, I was only potential and you made me, forced me, to find my confidence, my independence and strive for the elusive fearlessness that you so matter of factly possess…I look up to you and always will…"
With Russell's affectionate response, it seems the feelings are mutual in this family.
Cecilia Buchanan is first a follower of Christ, wife to her wonderful husband, and blessed mother of three beautiful girls. She is an avid Inklings nerd and would spend all day reading if she could. She has a passion for writing about Christian living and culture, homeschooling, and adoption.