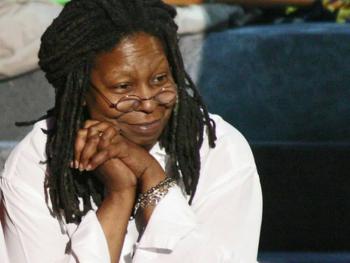 Whoopi Goldberg, co-host of The View, chastised a rowdy crowd after the show's audience erupted in booing the former top aide of former President Donald Trump, Kellyanne Conway.
Conway served as a senior counselor to former President Trump from 2017 to 2020.
Conway was on the show to promote her new book when she made comments about Trump losing in reelection in 2020 and that he "came up short" which "broke her heart." The crowd began booing after Conway commented that Trump "should have won" because he "had all these accomplishments" and he was essentially running against a man that was "stuck in the basement."
Instead of trying to speak over the unruly crowd, Whoopi stopped the conversation and address the audience directly.
"Let me do something before you say something else. Listen, this is 'The View,' and this is her view, and she's talking about how she feels and what she knows,. Please don't boo her." Whoopi said.
Watch the clip below.
.@KellyannePolls tells #TheView she "never" lied to former Pres. Trump about the outcome of the 2020 presidential election.

"I'm the closest person to Donald Trump to tell him the earliest that he came up short. It broke my heart, I wanted him to get reelected," she adds. pic.twitter.com/EfzfNh0FiX

— The View (@TheView) May 24, 2022
The purpose of the show is to allow guests to share their point-of-views regardless of political or personal affiliations. Whoopi herself was the subject of cancel culture after making comments about the Holocaust "not about race". The co-host was suspended shortly but allowed to come back on the air. It's possible Whoopi was able to relate to Conway at that moment when she came to her defense.
Conway has generated a lot of attention for her new book which discusses the time she spent with the former president and how he came to her defense when her husband did not.
"I had two men in my life. One was my husband. One was my boss, who happened to be president of the United States. One of those men was defending me. And it wasn't George Conway. It was Donald Trump." Conway writes in her book.
Things got interesting during the episode when Whoopi also had to play referee between Conway and co-host Alyssa Farah Griffin. Griffin also worked in the White House alongside Conway when trump was in office. The pair locked horns and had a heated exchange when the January 6th insurrection on the U.S. Capitol was brought up.
'I swore an oath to the Constitution, not to Donald Trump,' Griffin said.
Conway replied, 'As we all did,'
Conway continued speaking and said 'There was a lot wrong with the 2020 campaign' and suggested that the campaign was unsuccessful because of Griffin's former boss Mark Meadows. Conway said he was a "terrible chief of staff" and was no match for the global pandemic. Griffin shot back that Trump was no match either. The pair continued taking shots at one another throughout the show.
Conway said that the triumphs and adversities she's faced in the political realm prove she's just one example of the American dream.