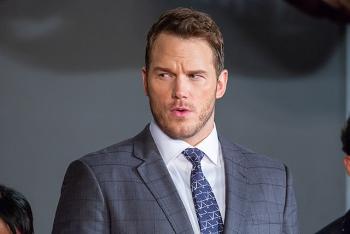 Chris Pratt continues to offend people with his Christian faith, and critics are slamming Hollywood for not replacing Pratt in the Guardians of the Galaxy and Jurassic Park franchises.
Pratt's faith has been a topic of controversy in the past, with some accusing him of using his Christian beliefs to discriminate against the LGBTQ+ community. Critics call Pratt "elusive" for being a member of the Zoe Church, where LGBTQ members may not be welcomed with open arms. The Church's founder Chad Veach produced a film in the past that called same-sex relationships 'sexual brokenness.' Pratt has never publicly stated his personal views on gay rights.
Pratt spends most of his time posting about God and how much he loves his wife Katherine and his children on social media. He has even posted about how he is reading the Bible and how it is impacting his life. It is odd that his views are seen as controversial when the actor has never used his platform to push any political or anti-LGBTQ agenda.
Even journalists have started digging at the actor with one recently calling Pratt a 'disgraced actor' for putting his Christian beliefs at the forefront of his public persona. What is clear is that there is a concerted effort to paint Pratt as someone who is dangerous and deserves to be called out. This seems unfair, especially when the actor has never used his platform to attack anyone.
Pratt has been regarded as one of the nicest guys in Hollywood by many other celebrities, including Joe Rogan, who have actually gotten to know the actor versus just knowing what they read online. Rogan has noted that it seems that Pratt will continue to be attacked for his beliefs because the actor is "outside the lines in terms of his ideology. He's a Christian, and he's pretty open about it, and, because of that, they attack him.'
Pratt has never given critics any statements or comments to warrant their hatred of the actor aside from his love of Jesus. The actor has never 'clapped back' at critics but instead always chooses to focus on his work and family life, which has been a refreshing change for Hollywood.
Even Guardians of the Galaxy director jumped to defend Pratt recently after he was slammed for not pulling Pratt from the franchise and was also dubbed 'disgraced.' A simple tweet rolled into a full-blown storm after suggesting the franchise replace Pratt with actor Patrick Wilson. Gunn saw the tweet and provided his opinion.
For what? Because of your made-up, utterly-false beliefs about him? For something that someone else told you about him that's not true? Chris Pratt would never be replaced as Star-Lord but, if he ever was, we would all be going with him.

— James Gunn (@JamesGunn) April 25, 2022
Gunn went on to defend the Church Pratt attends.
"I know the Church he currently goes to. Do you? (The answer is you don't, but you heard from someone who heard from someone who heard from someone where he goes to Church, so decided, "Yeah, okay, I'll believe this terrible thing I heard online about this celebrity!" He tweeted.
Back in 2019, Pratt did acknowledge the rumors as that only rumors saying "It has recently been suggested that I belong to a church which 'hates a certain group of people and is 'infamously anti –LGBTQ. Nothing could be further from the truth. I go to a church that opens their doors to absolutely everyone."
Gunn hasn't been the only one to defend Pratt either. Most of the Marvel Cinematic Universe has come to Pratt's side, calling him the nicest guy ever. We're just, unfortunately seeing a sad part of society that is ultimately taking anything they see on social media and running with it without any shred of evidence behind it. Imagine walking around with so much hate in your heart that you would attack someone you don't even know just because they have a different belief than you do. The only thing Pratt is guilty of is being Christian, and he is a role model for not backing down in the face of hate.