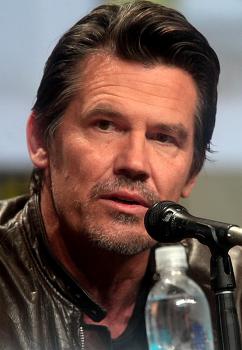 "Avengers: Endgame" star Josh Brolin marked eight years of sobriety and credited God first and then those closest to him for "the most punk rock sobriety imaginable."
The 53-year-old star has been open about his previous battles with substance abuse and even entered rehab in 2013 after a drunken public brawl with a bouncer. The extent of his substance abuse ranged from heroin to alcohol throughout much of his life.
"I tried heroin. I mean, I never got into it and I never died from it, which is a good thing. I've had 19 friends who died. Most of those guys I grew up with, they're all dead now." Brolin said during an interview with The Guardian.
Brolin felt he always surrounded himself with the wrong crowds, which pushed him down a destructive path. Four months after entering rehab, the actor even admitted to robbing cars to get quick cash for drugs during his teen years.
"Sobriety is finally loving without every thought being about how it affects only you. Sobriety is a moment of being able to love and be consumed by the glee it brings someone else. Sobriety is knowing the difference between selfishness and integrity." Brolin wrote in a heart-warming Instagram tribute.
The latest tribute is an annual celebration for the actor. On his fifth-year sobriety celebration post, the actor was transparent about how his continued public intoxication contributed to his divorce from actress Diane Lane, whom Brolin was married to for nine years.
During his time in rehab, the actor found solace through affirmations that included both spiritual and religious statements.
"Sobriety is knowing that God is in everything and that it is made up of every color (and a mixture of color) that exists. Sobriety is knowing the moon late at night when she was there for you in your toughest hour and, now, again, her witnessing your greatest joys." He added in the tribute.
Brolin is most recently known for playing Thanos in the Marvel Universe where he is largely credited for the character's success. He has been married since 2016 to Kathryn Boyd and is a father of four kids including two of whom are shared with his ex-wife.
In past interviews, the star had mentioned not being "particularly religious," but more recently credits the Lord for his turnaround in life. Brolin and his wife Kathryn even named their latest addition to the family, Chapel Grace. The child was born on Christmas day, and the name represents the positive experiences in houses of worship.
"Everywhere we have traveled the one place Kathryn and I always found great solace in were chapels. Not being particularly religious, but a God feeling heavily inundating our lives, chapels have always been the sanctuaries where we felt most connectedly free to give thanks. Chapel Grace is, to us, a manifestation of that celestial feeling that was always felt as we meandered and knelt." -Brolin wrote on Instagram two days following the birth.
Brolin is not alone in his battle for sobriety. In the U.S., there are 21 million Americans that deal with addiction, yet only 10 percent will receive some type of treatment. Josh is incredibly lucky and blessed to have such a wonderful support team surrounding him that can continue to lead him towards a life full of good health and success.
We look forward to his future on-screen appearances.