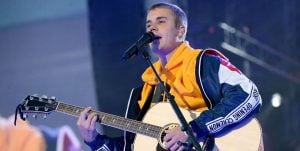 Since going from teen heartthrob to international music sensation, Justin Bieber has made many changes in his lifestyle. Justin Bieber was in the spotlight at a very young age. Growing up with money and fame also came with temptation and trials. After some rocky years tainted with scandal, Justin started attending church again. Bieber received spiritual mentorship from Pastors that helped him seek healing from Jesus Christ and free him from his unhealthy lifestyle habits such as drugs and sexual promiscuity. The famous singer has completely turned his life around since deciding to be saved. Now the 27-year-old musician is spreading God's word to others.
This Tuesday, Bieber arrived at the California State Prison of L.A. County. The California Department of Corrections and Rehabilitation reported that the singer-songwriter was there to spread the good news of Jesus Christ. Bieber and his Pastor were there for the prison's faith-based programs. Strict Covid-19 protocols were enforced in the visit, and everything reportedly went according to plan. This ministry visit follows Bieber's brief Turks and Caicos trip with his wife, Hailey.

The Canadian singer married model Hailey Baldwin, daughter of Christian Actor Stephen Baldwin, in Sep. 2018. The famous duo has been very open about how faith plays a vital role in their relationship.
The two reconnected as friends when they were attending services at Hillsong Church then starting dating. After a few years of their on-and-off relationship, the couple had a complex, public breakup. However, Bieber and Baldwin got back together when they reunited at a Miami Christian conference in the summer of 2018.
"The common denominator, I promise you, is always church. By then, we were past the drama. I just gave him a hug. By the end of the conference, he was like, 'We're not going to be friends.' I was like, 'We're not?'", Hailey explained in a past interview about the conference.
The two got engaged less than a month after the conference. The media and fans questioned the young couple for the hastiness of their engagement. Bieber and Baldwin explained that they prayed a lot about the decision to get married. The Christian pair was determined to do things God's way, a significant difference from most couples their age. This decision included
abstaining from sex until marriage
which Justin explained in interviews to encourage others to do the same. They also went against the celebrity marriage norm of getting a prenup because they believe that divorce is not an option since it goes against God's word.
Bieber stated, "not having sex was a way for us to feel closer to God." Justin further explained, "He doesn't ask us not to have sex for him because he wants rules and stuff. He's like, 'I'm trying to protect you from hurt and pain.' I wanted to rededicate myself to God in that way because I really felt it was better for the condition of my soul, and I believe that God blessed me with Hailey as a result."
Bieber and Baldwin officially tied the knot in a New York courthouse in Sep. 2018.
Justin Bieber's life changed for the better because of Jesus Christ. Now the Christian celebrity is using his influential platform to spread God's word. From once being an inmate in jail to preaching God's word at a prison several years later, Bieber's lifestyle transformation is incredibly inspiring because it shows that Jesus redeems and heals all who consistently seek Him. No matter how far we feel we have drifted away from God, He is always there with open arms for us to come back to unite with Him forever.