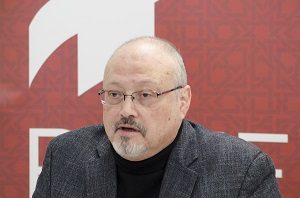 TIME Magazine has announced the winner of their annual Person of the Year award. The 2018 winners were a handful of journalists, most notably including the slain Saudi journalist Jamal Khashoggi. TIME nicknamed the group of journalists "the guardians" who "risk all to tell the story of our time." The journalists were chosen "for taking great risks in pursuit of greater truths, for the imperfect but essential quest for facts that are central to civil discourse, for speaking up and speaking out."
TIME's decision to honor Jamal Khashoggi, the murdered Saudi journalist at the center of a massive international investigation, marks the first time the Person of the Year award has been given to someone who has died. A statement from the Editor in Chief of TIME noted that 2018 was "the first time [TIME had] chosen someone no longer alive as Person of the Year, but it's also very rare that a person's influence grows so immensely in death." This, certainly, is true. Khashoggi was a known critic of the Saudi regime within journalistic circles, but it was the firestorm set off by his death that made him a household name.
The other journalists honored included Wa Lone and Kyaw Soe Oo who were imprisoned for nearly a year in Myanmar during their investigations of the Rohingya genocide; Maria Ressa, an award-winning Philippine journalist who has been critical of Philippine president Rodrigo Duterte and claims the charges of tax evasion leveled at her are politically motivated; and the staff of the Capital Gazette, the Maryland newspaper that suffered a mass shooting in June.
Khashoggi was listed on the announced shortlist for the award, but the other journalists were not included in the official announcement.  Among the others listed on the shortlist were South Korean President Moon Jae-in, actress-turned-duchess Meghan Markle, "Black Panther" director Ryan Coogler, Robert Mueller, Russian president Vladimir Putin and President Donald Trump. President Trump was the runner up for 2018 Person of the Year.
The TIME Person of the Year award began in 1927 and first honored Charles Lindbergh. It was meant to recognize the person, people or group that is said to have had the greatest influence on the world in the last year. Past winners have included everyone from Charles Lindbergh, Pope John Paul II and Mahatma Gandhi to Joseph Stalin, Ayatollah Khomeini and Adolf Hitler. The full article about TIME's 2018 Person of the Year award is available on their website.