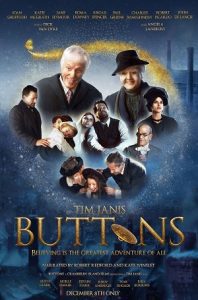 Fittingly for the month when the longest nights of winter overlap with the happiest time of the year, Fathom Events is releasing a movie that shows the importance of sharing kindness even during the darkest times. In the tradition of great musical movies such as "Singin' in the Rain," "Buttons: A New Musical Film" will be playing in theaters for one day on Saturday, December 8, 2018.
The movie's uplifting message comes at an especially relevant time, according to Tim Janis, and not just because of the holiday season. "I think we all need to be reminded during all times to be kind. You can look back on history and see this message is so necessary," said Janis. "I think we need to remind ourselves to be kind, and I include myself in that, and I think we need to value the importance of being kind and being gentle. I think this movie shows what happens if you are kind and if you are not kind."
The film tells the story of a pair of young orphans during the Industrial Revolution who meet a pair of angels, played by Angela Lansbury and Dick Van Dyke. The angels change the stories of the two girls forever and weave them into a "triumphant and heartwarming ending."
"I love the old MGM musicals," said director Tim Janis, but "Buttons" owes as much to classics such as "It's a Wonderful Life" as it does to the classic musicals. "It just makes you happy for all you have in your life," Janis said of "Buttons." "I think having Dick Van Dyke and Angela Lansbury as the two angels, there's this nostalgic feel to it. It feels like home. My hope is that you feel a large amount of Christmas spirit [after watching the movie] and feel grateful and thankful for all the wonderful things we have in our lives."
Hope, after all, plays a key role in the film as well as in real life. "I believe hope is as important to us as food and the air we breathe," Janis said. "It's this vital component that keeps us going. … Having hope, having kindness and believing, believing that everything will turn out all right, we can elevate ourselves to a place of peace and happiness from whatever struggles we're going through. I feel the film is for anyone going through difficult times, those who lost someone or are trying to put their lives back together. The movie speaks to having this belief that you can wind up in a place where you can be at peace again."
The film is putting its money where its message is in literal fashion as well. A percentage of the proceeds from the film are going to the Golden Hat Foundation, a charity that seeks to "change the way people on the autism spectrum are perceived, by shining a light on their abilities and emphasizing their great potential." In addition, Keli Thorsteinsson, the son of the Golden Hat Foundation co-founder Margret Ericsdottir, composed some of the music for the film using a letter pad.
"Buttons" has also made it a point to reach out to service men and women. "We are also benefiting the USO," Janis said. "The heart of the movie is about hope and belief and kindness, so [we want to do] whatever we can do to bring hope and kindness for the USO." Janis also stated that nearly 2,000 tickets had been given to service men and women prior to the film's first showing. "It's kind of my dream and goal [to keep benefiting great charities.]" Janis said.
"Buttons" will play in select theaters for one day only on Saturday, December 8, 2018. The trailer and tickets for this new holiday classic are available online now.