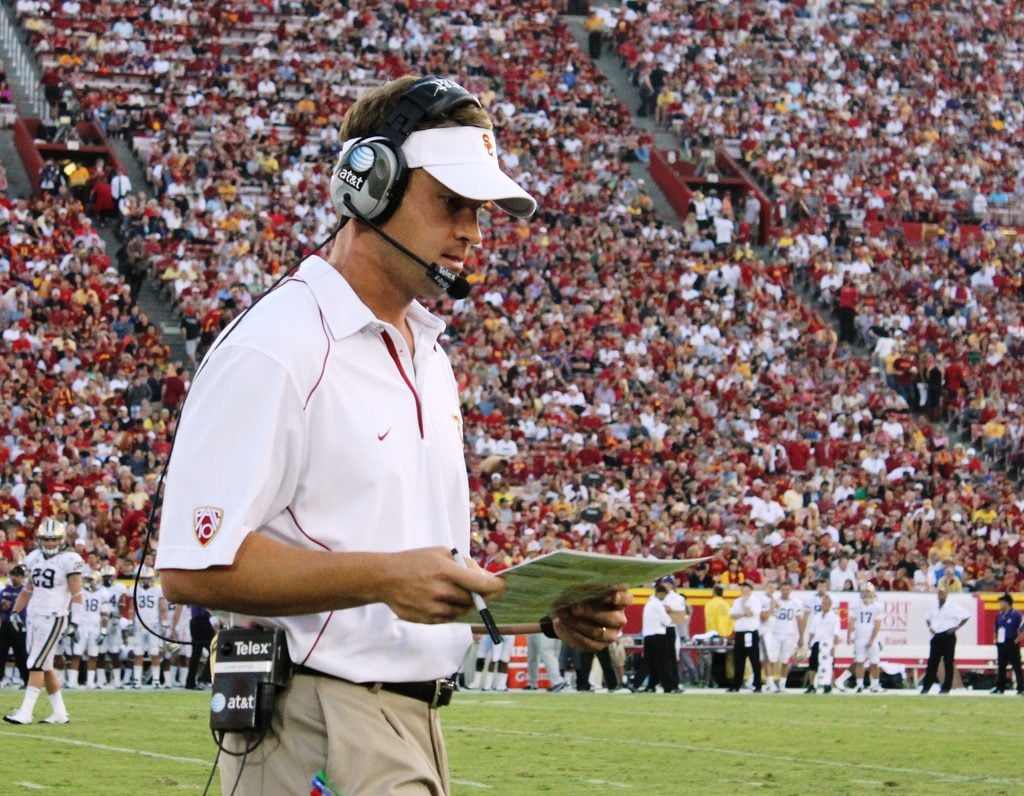 Most sports fans have heard the story of outspoken football coach Lane Kiffin. But now, Kiffin has decided to show a whole new side of himself by revealing his Christian faith. Kiffin penned a 4-page testimony for Athletes For God that shares his journey back to Christ.
Kiffin was coaching Heisman winners at the young age of 24, and was an NFL head coach by 31 at USC. He then fell into the job most coaches only dream about – Tennessee. After an average year, Kiffin made the choice to jump back to USC where he was selected to be their new coach. However he was quickly fired after a loss at Arizona State.
"I was pulled off my team bus, in front of the players at the airport at 3 a.m. to be told I had been fired hours earlier," Kiffin wrote. "I don't wish that feeling upon anyone. I wanted to die, because at the time I was defined by my job."
While the football world was watching Kiffin's downfall, there was a spiritual rebirth growing inside of Kiffin, even if he wasn't quiet aware of it yet.
Tennessee chaplain Roger Woods gave Kiffin a copy of Rick Warren's book, The Purpose Driven Life, while he was still coach. The book had a big impact of Kiffin's life. The message he took away? It's not about you.
"On the first page were four words that changed my life," Kiffin wrote. "'It's not about you.' "That's all Rick Warren needed to say. It immediately sunk in, and I've been telling my players and coworkers that line ever since. I had never heard that before but that is the purpose of life."
Kiffin admits that he didn't handle the success, fame and money that came to him so early in life the right way. He compared it to Hollywood actors that let their ego get too big. Being the youngest NFL head coach in modern history at USC was difficult.
Luckily, Kiffin was given another chance when Alabama head coach Nick Saban made him offensive coordinator. Kiffin helped lead them to win a national championship and three conference titles. Kiffin then became head coach of Florida Atlantic, which won its conference championship and bowl game last year.
"And just when I needed Him, God answered in a big way. I don't know if God is a sports fan or not, but I do know this: He loves a good comeback…When God gives you a second chance, it's not something you take for granted."
Looking back, he's glad USC fired him.
"What it turned out to be…was the beginning of God humbling me to the man I am today," he wrote. "I was not using the platform He put me on at all in His way. As my pastor once said, 'God wasn't punishing me, he was just giving me a wakeup call."
"I don't like to focus too much on my past, because then it stops becoming your past and starts to become your present," he wrote. "However, my story is a special exception, because it shows people that it's never too late to rediscover God, and that we can overcome anything in our past. I like to tell people these days, if God can forgive you for whatever you have done, then why can't you! I'm proof."
Kiffin hopes his story will inspire others to get back up when they have hit a low.