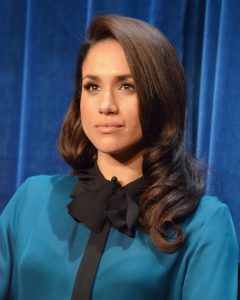 On Monday morning, a highly anticipated official statement reported that Prince Harry, fifth in line for the British throne, is engaged to the American actress Meghan Markle. Harry and Meghan are planning to marry next spring and have stated that they plan to live on the grounds of Kensington Palace in London after their wedding.
Harry and Meghan became engaged earlier in November, but the couple delayed making an official announcement until Monday morning. Harry and Meghan began dating over a year ago, and local media outlets have been hoping desperately for proof of a proposal for some time. The U.K.'s Channel 4 aired a hastily-made documentary called "When Harry Met Meghan" at the end of October, likely in hopeful anticipation of good news from the couple.
Members of both the Markle and the royal family extended their official congratulations to the newly engaged couple. A statement from Queen Elizabeth II and her husband, Prince Philip, said that they "are delighted" by Harry and Meghan's engagement. Harry's older brother, Prince William, and his wife, Duchess of Cambridge Kate Middleton, also offered their official congratulations and said that they were "very excited for Harry and Meghan. It has been wonderful getting to know Meghan and to see how happy she and Harry are together." Thomas Markle and Doria Ragland, parents of the bride-to-be, said that Meghan is "a kind and loving person. To see her union with Harry, who shares the same qualities, is a source of great joy for us."
Meghan and Harry gave their first joint interview on Monday night just hours after their engagement was confirmed by Clarence House, the office of Harry's father, heir-apparent Prince Charles. During this evening broadcast, the newly engaged couple spoke about Harry's proposal at Kensington Palace's Nottingham Cottage in London. "It was just so sweet and natural and very romantic," Meghan said. "I could barely let [him] finish proposing. I was like, 'Can I say 'yes' now?'"
Harry and Meghan also touched on the evolution of their relationship in Monday night's interview. They were introduced by a mutual friend in the summer of 2016 and went on two dates in London during July 2016. A few weeks later, Harry persuaded Meghan to join him on a trip to Botswana, Africa. "We camped out with each other under the stars," Harry said. "She came and joined me for five days out there, which was absolutely fantastic." Meghan was officially announced as Harry's girlfriend in early November of the same year.
While Meghan and Harry are thrilled to be making their engagement official, their union would have been almost unimaginable a generation ago. Meghan is mixed-race, Catholic, American and a divorcee, none of which would have been easily accepted by the royal family. Meghan and Harry's engagement shows that the royal family is modernizing, and the blessings from other royals seem to be sincere. Much of the world is cheerfully joining the United Kingdom in wishing the husband-and-wife-to-be much happiness, and everyone is waiting with baited breath for more details about the upcoming royal wedding.