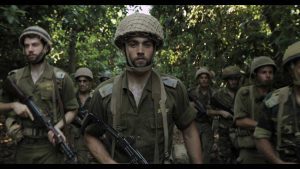 For centuries, Israel had been a nation in exile. For six days, surrounded by enemies, Israel stood alone and changed history.
This past spring marked the 50th anniversary of the Six-Day War, and CBN Documentaries Film commemorates this historical battle with the new movie "In Our Hands: The Battle for Jerusalem."
In May of 1967, Arab nations joined together with a stated goal to wipe Israel off the map. Less than 20 years after reforming as a nation, Israel was on the verge of extinction. Yet six days in early June 1967 changed history forever.
"In Our Hands" tells the story of Israel's 55th Paratrooper Brigade and how Israel Defense Forces risked everything to protect their homeland. Featuring firsthand interviews and historical reenactments, the powerful docudrama focuses on the commitment and sacrifice of the soldiers who reunited Jerusalem.
No matter if you recall the historical events like it was yesterday, or you are interested in learning more about the declaration by the Israel Defense Forces and their stunning victory, this film will captivate you.
Pastors, historians, movie-critics, and the public are all thrilled for the film to be released.
"One of the best, most moving films I've seen this year… handsomely produced, historically responsible, and emotionally satisfying." – Michael Medved, Nationally syndicated talk-radio host and bestselling author of 'The American Miracle'
"… If you love and support the nation of Israel and the Jewish people, I urge you to see this life-changing film." – Pastor John Hagee, Author of 'Four Blood Moons'
"In Our Hands is a deeply satisfying experience from beginning to end. Marrying documentary form to narrative reenactment, the film takes hold of its audience in its opening moments and never lets go."- Seth M. Siegel, New York Times best-selling author of 'Let There Be Water'
"The greatest evidence that the Bible is true and that miracles are for today is Israel! Your faith will explode when you witness the supernatural power of God documented in this film!" – Sid Roth, Host of 'It's Supernatural!'
Get a chance to watch the trailer before purchasing on DVD.