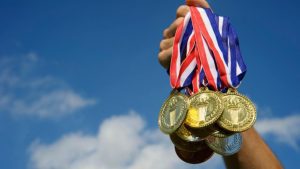 It's the 45th anniversary of Title IX since it passed legislation in 1972. This law paved the way for women to have equal rights to play sports in college. The NCAA Gender-Equity Task Force proclaimed that "No individual should be discriminated against on the basis of gender, institutionally or nationally, in intercollegiate athletics."
Title IX of the Educational Amendments of 1972 also known as the Patsy T. Mink Equality Opportunity in Education Act, also declared. "No person in the United States shall, on the basis of sex, be excluded from participation in, be denied the benefits of, or be subject to discrimination under any educational program or activity receiving federal financial assistance."
This empowered women like tennis great Billy Jean King to take on the male establishment to win 39 Grand Slam tennis titles. It was her fight for equality in tennis to help the stars of today.
"Everybody should thank her and shake her hand," King's fellow tennis icon Chris Evert told CNN's "Open Court." "She put money in our pockets and provided a living for hundreds and hundreds of female athletes. "Tennis is the frontrunner in all sports in equality, so she deserves all of the credit."
King is also well-known for competing against tennis player Bobby Riggs in "The Battle of the Sexes" exhibition game at the Houston Astrodome in 1973. Riggs was a former Wimbledon champion, who said he could beat any female player and spiced up the event with misogynist comments. "I'll play her on clay, grass, wood, cement, marble or roller skates," he quipped. Riggs also said that "women belong in the bedroom and kitchen, in that order." Billie Jean King proved him wrong. She won the match and went on to show men everywhere that female athletes are a true force.
Decades before the breakthrough of Title IX, the first women's rights convention was held in 1848 to discuss social and civil rights of women. Another famous first during that time was when Wyoming declared that every woman of the age of 21 may vote in any election in 1869. The territorial legislature of the state moved with brilliance to outlast the Congress, which lobbied to stop the law. A woman of the name of Victoria Woodhull became the first female to run for president for the Equal Rights Party and chose famous abolitionist Fredrick Douglas a few years later. This was unprecedented for a woman and it put a bull's eye on her back. As gutsy as this Ohio native was, most women could not vote until the ratification of the 19th amendment in 1920!
Years later, we still struggle and we still have glass ceilings to break in sports, politics and on Main Street. The question is, will we finally smash them? Like those who marched in support for women to have the right to vote, Title IX gave us the optimism inequality is unacceptable.