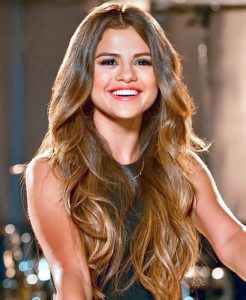 Since leaving rehab last year, Selena Gomez has a newfound faith in the Lord.
The singer entered rehab in August of 2016 after suffering from anxiety, depression and panic attacks as a result of her lupus diagnosis. Gomez leaned on religion when she checked into rehab, signing up for a Christian-based track program.
Now, Selena says she is closer to God than ever before. She recently revealed to Vogue magazine about how her church roots are deeply embedded in her upbringing, and how her faith has flourished since her time in rehab.
Selena was born to teenage parents in Texas and struggled emotionally as a child. She blamed her mother for her parent's split when she was only five, and without dad around the family struggled financially.
"I was frustrated that my parents weren't together, and never saw the light at the end of the tunnel where my mom was working hard to provide a better life for me," Gomez said in an interview.
Gomez got her start with a role on the series Barney and Friends and later landed the lead role of Disney Channel's Wizards of Waverly Place. Selena was following in the footsteps of other Disney stars like Miley Cyrus and Demi Lovato, who kept squeaky clean images as Disney teens only to turn to drugs and partying when they branched out on their own.
It seemed as Gomez was also on the track downward, creating a sultry celebrity image and running around with Hollywood A-listers. Her songs topped the charts and she began to date the drug-troubled Justin Bieber for a year, followed by a year of on-and-off-again rumors. But when she started suffering from lupus, coupled with the depression and anxiety surrounding her illness, Gomez cancelled the rest of her Revival Tour in 2016.
Gomez maintained that she wasn't fighting a battle with addiction, despite tabloid rumors surrounding her decision to get help. She passed up the typical Hollywood luxury rehab facility in favor of a Christian-run program.
Selena has now surrounded herself with her church friends, and is spending less time with the Hollywood scene. The 24-year-old music artist opened up to Vogue magazine about her new lifestyle, saying that she doesn't go to after-parties or night clubs anymore. Instead, she is trying to spend more time outside the public eye.
"Gomez currently lives in an Airbnb in the Valley and honestly doesn't get out much, except for the long drives with her girlfriends: a realtor, a techie, some folks from church," Vogue wrote about Gomez and her friends.
"I think 17 people have my phone number right now. Maybe two are famous," she said.
Selena has been even more open about her faith in the Lord since her reemergence into the limelight. She never hid her faith, previously making small gestures such as mouthing the words "Thank you Jesus" in between lyrics at concerts. Now, though, she's sharing her faith on a much larger scale.
In recent months, Selena has also gone back to social media, mainly Instagram. She has reveled more of her spiritual and Christian side through various posts, including some of her favorite bible verses and church sermons. In a recent post, she quotes a sermon by Pastor Judah Smith who lead City Church in Los Angeles, California.
"Today I watched a sermon from one of my favorites. @judahsmith 'I don't really understand myself, for I want to do what is right, but I don't do it. Instead, I do what I hate.' Romans 7:15," she wrote under the photo of the pastor.
Gomez is fond of Hillsong Church, as well.
In 2016, Selena surprised fans at Hillsong Church's Young and Free Revival Concert in Los Angeles when she sang an original worship song, "Nobody," for the first time.
"I got to perform my first worship song I ever wrote. So grateful for His grace and understanding," she said in an Instagram post.
She told those during the concert that "Tonight is more than a concert, it's more than Hillsong, it's more than me coming on stage and singing a song for you. It's about a relationship that is greater than anything, guaranteed."
During a promotional tour for Hotel Transylvania 2, Selena explained her faith. She explained how she wants to spread love and positivity in everything she does.
"I love to focus on the positive. As much as I believe we have work to do, I believe we're in a really good place and we have a really good grip for embracing people for who they really are. I just hope that spreads more and more."
Then, Gomez called Hillsong United's singer, Brooke Fraser, one of her favorite faith-based artists.
"She's my favorite. And I have the pleasure of knowing her and she's incredible. I have always loved her music. I love Hillsong as well. I love all of their worship. I'm a sucker for all of it."
Selena's fans are continuing to be accepting of the singer and are impressed by her unwavering faith.
"I'm impressed with her courage. Not a lot of singers would do what she did. She performed a Christian song despite knowing that it may cause some people to view it in a dim light because of 'religious issues'. Unless it is a church concert, I seldom hear any singers sing Christian songs publicly, much less a concert," noted Emily L. in YouTube comments following a concert in 2016.