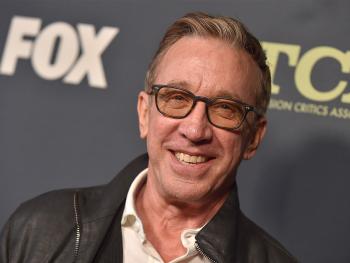 Tim Allen, comedian and actor, is not afraid to let others know he is serious about God.
Tim Allen became famous for his hilarious jokes and handyman hobbies, but there is a side to him that many haven't seen. Allen doesn't claim to be the perfect Christian; instead he is open about the fact that many of his life's deepest struggles are what caused him to turn to Christ.
Allen didn't always have it easy. At only eleven, Allen's father passed away when he was hit by a drunk driver. After that, Allen began to question if he would have prayed harder or if he had been with his father that day, if he could have prevented his death.
"I knew my father was dead, but I was never satisfied with why he was dead. I wanted answers that minute from God. 'Do you think this is funny? Do you think this is necessary?' And I've had a tumultuous relationship with my creator ever since." Allen said in a 2012 interview.
Like many other celebrities, Allen struggled with addiction and alcoholism. He felt he had nowhere else to turn and found comfort in drug and alcohol abuse.
Allen's life took a very dramatic turn on October 2nd, 1978 when he was arrested for possession of over 650 grams of cocaine. He pleaded guilty to drug trafficking charges. He was released after serving over two years in federal prison.
After he left prison, he turned to his comedy which he says saved his life. He began his hit sitcom Home Improvement and starred in the Disney movies The Santa Clause trilogy, Wild Hogs, and Toy Story trilogy.
Through all of this, he still hadn't finished dealing with his dark demons.
"For years, I just did not like this idea of God, church," he said. "(I was) still a churchgoer, but constantly a cynic."
He continued to have a tricky relationship with God, but wanted to create a relationship with his creator.
"Whoever built me, this is too much, too weird that it happened by accident," Allen said. "It didn't happen by accident."
Today, he calls God, "The Builder."
"I always do ask… The Builder, what did you want me to do?" Allen said. "And I do ask it. But you got to be prepared for the answer."
Through tough work and a lot of faith, Allen did dedicate his life to Christ. Now, it's simply incredible to see all that God has done through Tim Allen.
In a recent episode from Allen's sitcom Last Man Standing, Allen found a way to incorporate Jesus Christ into the script. Despite getting constant flack for talking about his faith, the scene shows that Allen refuses to back down.
With over a decade of sobriety under his belt, Allen is free to enjoy his family and daughters. Allen's life boasts of God's redeeming grace and goodness, and proves that no man is 'too far gone.' Even when he pushed God away, Allen was able to find Him again.
His own experiences — from his father's death to a two-year jail stint on a drug conviction to his sitcom stardom — help inform his faith.