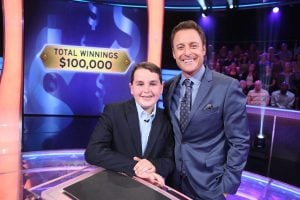 13-year-old Josh Darrow of Virginia Beach was stumped on how to answer the $250,000 question on the hit TV game show, "Who Wants to be a Millionaire."
Darrow had no lifelines left and said he has "no clue" for the answer to the question: "Before ultimately finding a permanent home in America, many Pilgrims took refuge in Leiden, located in which country?"
After a few minutes of debate, Josh decided to walk away. He decided to keep the $100,000 instead of risking an incorrect answer. While Darrow did predict the right answer, the Netherlands, he is not upset about his decision.
In his last appearance on three episodes of the show, Josh thanked all his teachers for their support and told the audience "studying has paid off."
Liz Harris, co-executive producer, said Josh was smart and charming.
Josh's mom said he's an avid reader, trivia buff, a member of his academic challenge team at Old Donation School, a Boy Scout – and he takes piano lessons. It is quite a resume for a young teen.
"Josh had a contagious energy," Harris said. "He played the game skillfully and is a contestant who, I can assure you, will never be forgotten."
Why won't he be forgotten? Well, the young teen is doing something honorable with his winnings.
Josh is donating a portion of his prize money to Virginia Beach City Public Schools Beach Bags program. The program provides shelf-stable meals and healthy snacks to students that might otherwise go hungry during weekends or school breaks.
Since the program was founded in 2009, more than 51,000 bags have been distributed. During the 2015-16 school year alone, more than 13,000 Beach Bags were provided to some of the neediest students. The Beach Bags program is funded entirely through donations by generous community members, such as Josh, and local area business, student organizations and schools. Volunteers then go to help assemble the bags each week.
At such a young age, it is inspiring to see a young man willing to donate a portion of his large earnings to the community that helped raise him. While he didn't win the $1 million, he won the hearts of those who watched him and the children that will benefit from his donations.
Josh will invest the rest of his money in a college fund.