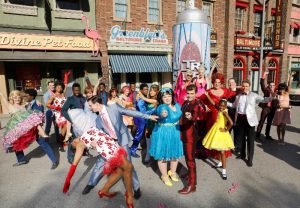 The cast of "Hairspray Live!" is getting excited for their upcoming performance in the Macy's Thanksgiving Day Parade. The stars have been rehearsing their performance this week in preperation. "Hairspray Live!" will join a dazzling lineup of Broadway's best taking part in the parade, including "Cats," "Holiday Inn, The New Irving Berlin Musical," "Paramour," and "Waitress."
Back in January, NBC announced that the '60s song-and-dance would be the next production to get the "Live!" treatment and everyone has been anxiously awaiting the airing. The stars of the cast are phenomenal, including Ariana Grande, Derek Hough, Jennifer Hudson, Martin Short, Harvey Fierstein and leading lady Maddie Baillio.
If the clip leaves you wanting more, you don't have to wait long. Tomorrow the cast will be giving a sneak peak during the Macy's Thanksgiving Day Parade, airing from 9 a.m.-noon in all time zones. "Hairspray Live!" will then air Wednesday, Dec. 7, at 8 p.m. ET on NBC.