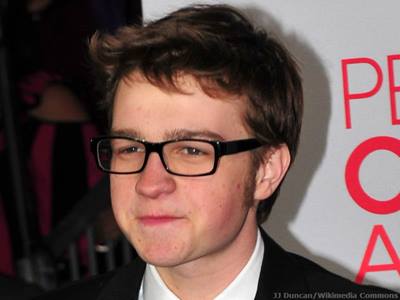 You may recognize him as the little boy from the popular sitcom, Two and Half Men. The show was an instant success and made Angus T. Jones not only a household name, but very rich. He was the highest paid child actor in television history when he played the role of Jake Harper, Charlie Sheen's nephew, on the hit show. By the age of 17, the actor was making $350,000 an episode with his net worth estimated at $15 million. But despite his large earnings, he was still a typical teen and beginning to search for something more.
Jones survived the chaos as production on Two and Half Men halted in early 2011 after Sheen entered rehab and publicly criticized creator, Chuck Lorre. Then the show returned for season 9 that September and Ashton Kutcher joined the cast.
"It's worked out seamlessly," Jones said of the transition.

But when Jones's character graduated from high school and started getting more adult story lines, the young actor started to feel increasingly like his role was out of line with his newfound relationship with God and his Christian faith.
In November 2013, Jones bashed the show in a surprising video posted on the religious website, The Forerunner Chronicles.
"If you watch Two and Half Men, please stop watching Two and a Half Men," Jones said. "I'm on Two and a Half Men and I don't want to be on it. Please stop watching it. Please stop filling your head with filth."
However, Jones went on to issue an apology for the statement he made, which came during an apparent religious awakening for the actor in the Seventh-Day Advent Church.
"I apologize if my remarks reflect me showing indifference to and disrespect of my colleagues and a lack of appreciation of the extraordinary opportunity of which I have been blessed," he said in a statement. "I never intended that."
He continued to appear as a regular on the show until the season 10 finale in May 2013. At the time, it was reported that he would guest-star on season 11, but that time never came. Jones made it clear that he stood by his thoughts on the show, calling himself "a paid hypocrite."
"It was difficult for me to be on the show and be a part of something that was making light of topics in our world where there are really problems for a lot of people," Jones told Houston, Texas television station KHOU. "I was a paid hypocrite because I wasn't OK with it and I was still doing it."
He switched gears and decided to pursue furthering his education, while also focusing on his faith.
"Going to college was something I was really, really excited about," Jones said.
Enrolling at the University of Colorado at Boulder allowed Jones to live a normal existence.
"I wasn't at the center of everyone's attention, and that was nice," Jones said.
Jones has become a close follower of the Seventh-Day Adventist Church, fully embracing his faith. He visits churches across the country, openly talking about God and religion and sharing his faith story with others. He works closely with the World Harvest Outreach Church in Houston where he is widely embraced.
World Harvest Outreach Church Pastor James R. Doggett said of Jones, "He really considers his relationship with God and what he's putting out in the atmosphere to be a lot more important than his reputation in Hollywood. Angus, I'm not sure he really cares a whole lot about being an actor or being well known in that regard."
Jones said he's put acting on the back burner, but he might be interested in starring in Christian-themed content, particularly working on Bible-based stories. He's also interested in seeing where he goes without an organization putting a stamp of approval on if he's good or bad. He continues to try and walk in the light of Christ because he knows that's where the healing is.
While Jones walked away from a popular role that made him a rich teenager, he has no regrets and has gained something far greater.
"In terms of regrets, I try to avoid them completely," he said. "There's no changing anything. There's only moving forward."