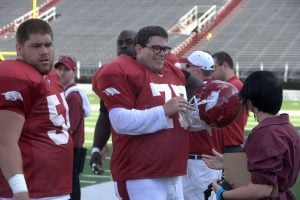 Brandon Burlsworth is known for being one of the greatest walk-ons in college football history, and his legacy is now the subject of the movie "Greater." The film tells the story of Burlsworth's journey from unlikely University of Arkansas walk-on to 1998 All-American. Based on the true story, actor Chris Severio portrays Brandon on the big screen.
The Burlsworth family created the Brandon Burlsworth Foundation in honor of Brandon who was tragically killed in a car accident in 1999. He had planned to help underprivileged children, and his family stepped up to make that dream still become a reality.
Beliefnet caught up with Marty Burlsworth's brother, Brandon to talk about his brother's legacy, the Brandon Burlsworth Foundation and the new film debuting on August 26th.
What inspired you and your family to start the Brandon Burlsworth Foundation?
Brandon had talked about helping underprivileged kids when he made it to the NFL. After the shock of the accident wore off, we wanted to create something so his example was not forgotten. The idea of the Foundation was a great way to honor his legacy.
The Brandon Burlsworth Foundation is a Christian organization, with a mission to support the physical and spiritual needs of children, in particular those children who have limited opportunities. How did you and your family come up with this mission?
We are proud to be known for the things that Brandon was known for: Faith, Family and Football. He always had a soft spot for kids. I remember at ball games and restaurants; the kids would line up for his autograph and I never saw him turn one child away. He was humbled that they would ask. He knew the responsibility that being in the spotlight came with. We are associated with sports but the spiritual needs are just as important. Our Burlsworth Character Award is available to over 16,000 high school football programs in the Nation. We are proud to bring recognition to those student athletics that display character.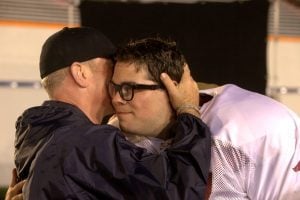 Why do you believe instilling Christian values and supporting children's spiritual needs at an early age is so important?
Childhood is the developmental period of everything, values, self-worth, confidence and especially a strong spiritual foundation. So many of the kids that we work with struggle not only financially but with these issues that are so vital. Our goal is to change that pattern and help them take charge of their own future. We know that faith is the foundation, then the family has a pattern of stability and then school and sports will all work out.
What are some of the social benefits of children playing sports?
My wife and I have 3 boys. They have all played sports and I encouraged each one of them. A sport teaches teamwork, putting others first, a good work ethic, discipline, getting along with other teammates and obedience to an authority higher than us.
What are some of the positive values children learn from playing sports? Why are these values so important?
Sports are all about the teamwork. You can't be selfish and succeed successfully in sports. Christians are to put others first before our self. You learn to obey your coaches. We are to obey our elders as we read and study our Bible. We see athletes who rise to the top but lack of character will always show itself. I see so many great examples of the parallels of sports and our walk with God.
What are some of the ways your foundation is transforming children's lives?
One of my personal favorite programs we do is Eyes Of A Champion. We, in partnership with Walmart and independent Optometrists provide over 1,000 pairs of eye exams and eyeglasses to underprivileged Pre-K thru 12th grade students. Our plans are to take the program nationwide.
The Burls Kids program take 25 underprivileged kids to every home Razorback and Indianapolis Colts game. They are given shirts, books, replica glasses and special treatment that day. In most of these kids, it's the only day that they get to feel special. Our sponsors give each child some spending money for the day. One young boy asked if he could spend $5 and give the rest to his mom. He said. "She really needs it" That's the quality of kids we are striving to work with.
What advice can you give young, aspiring athletes like Brandon who may not believe they have what it takes to make it
My closing talk after we first meet the Burls Kids at the Arkansas games is this; "Has anyone ever told you that you're not good enough, that you're not smart enough, that you're not strong enough, or that you're not fast enough? Remember Brandon's story and then the next time that happens, you tell them…….Watch Me!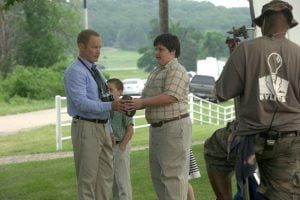 What do you hope moviegoers will take away from "Greater"?
"Greater" is an inspiring story of Brandon's life and experiences. But it has a wonderful message and strives to answer the question, "Why do bad things happen to good people?" God has given us free choice. We have a decision to allow God to work through our pain, or we do the easy thing and give up and allow the devil to control the situation. Our family chose to use this for his glory. Romans 8:28 tells us, "For we know that all things work together for good to those who love God and are called according to his purpose". Our loss is great, but God is "Greater"!
The faith-based film is based on an amazing legacy of a remarkable human being. The movie is sure to inspire and encourage those who take the time to watch it. Make sure to catch "Greater" in theaters on Friday, August 26th.