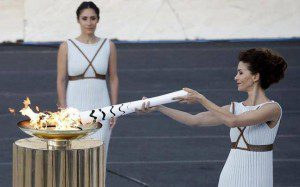 Rio de Janeiro will host the Summer Olympics from August 5-21, but preparations for the event are already underway.
The Olympic flame that will burn at the Summer Olympics was handed over to Brazil last Wednesday. The ceremony was held in Greece at the marble stadium that hosted the first modern Games in 1896. The flame was lit by the sun's rays at the birthplace of the Games in Ancient Olympia.
The flame sat overnight at the Acropolis museum, then traveled through the streets of Athens before being carried into the stadium by Greek high jump Olympic medalist Niki Bakoyianni. Following the relay, Greek rowing champion Katerina Nikolairou lit the golden cauldron and the crowd burst into applause.
Rio Games chief Carlos Nuzman was there for the ceremony, and promised to deliver a spectacular Summer Olympics.
The flame will be flown in special safety lanterns to Switzerland for a ceremony at the United Nations in Geneva on Thursday. It will be arriving in Brazil on May 3rd for a relay across the country in the hands of 12,000 torch-bearers before reaching in Rio for the opening ceremony on August 5th.