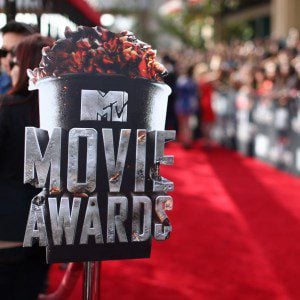 The 25th annual MTV Movie Awards was held Saturday night at the Warner Bros. Studio in Burbank, California and was aired last night on MTV and its sister networks.
Despite the changes to a taped show and outdoor setting, the crazy and sometimes inappropriate entertainment we have come to know from MTV was still alive and well.
Last night brought some memorable moments, starting out with co-hosts Kevin Hart and Dwayne Johnson storming the stage decked out in Superman and Batman costumes. This was followed by Alexander Skarsgård showing up on stage without any pants. However, that wasn't even the worst fashion statement as Tyler Posey's onesie and Baddie Winkles' eyebrow-raising jumpsuit left everyone confused.
The audience was thrilled about the amount of sneak peeks released during the show. Viewers got to see a new trailer for Suicide Squad, J.K. Rowling's Fantastic Beasts and Where to Find Them, and Captain America in Civil War.
This year's MTV Generation Award was presented to Will Smith. The Comedic Genius Award was given to Melissa McCarthy, the first woman to receive the honor, who celebrated her win by crowd-surfing to the stage.
Star Wars: The Force Awakens was the big winner of the night, taking home 3 awards including Movie of the Year. Check out below for other notable winners.
Movie of the Year: Star Wars: The Force Awakens
True Story: Straight Outta Compton
Best Female Performance: Charlize Theron, Mad Max: Fury Road
Best Male Performance: Leonardo DiCaprio, The Revenant
Breakthrough Performance: Daisy Ridley, Star Wars: The Force Awakens
Best Comedic Performance: Ryan Reynolds, Deadpool
Best Action Performance: Chris Pratt, Jurassic World
Best Hero: Jennifer Lawrence, The Hunger Games: Mockingjay Part 2
Best Villain: Adam Driver, Star Wars: The Force Awakens
Best Virtual Performance: Amy Poehler, Inside out
Ensemble Cast: Pitch Perfect 2
Best Kiss: Rebel Wilson & Adam DeVine, Pitch Perfect 2
Best Fight: Deadpool (Ryan Reynolds) vs. Ajax (Ed Skrein), Deadpool