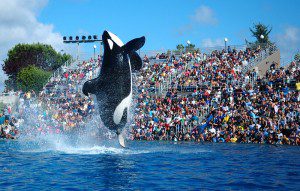 Last week, animal lovers rejoiced when SeaWorld announced an agreement with the Human Society of the United States that will immediately stop its captive breeding program, making the current generation of orcas the last.
CEO Joel Manby also stated that SeaWorld will be phasing out its theatrical orca shows and instead focus on renewing its commitment to rescuing and rehabilitating sea animals.
"Continued brand challenges" was to blame according to SeaWorld. Ever since the release of the "Blackfish" documentary three years ago, which takes an in depth look at orcas in captivity, the public lost its respect for SeaWorld. Numbers for the park dwindled in the past years.
The announcement shows that SeaWorld has finally realized that its current model doesn't work from an ethical or business standpoint. The orca shows will end at its San Diego park in 2017 followed by San Antonio and Orlando locations in 2019.