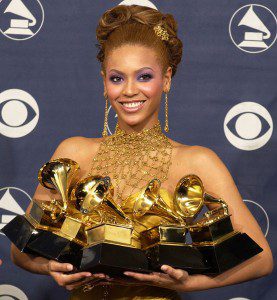 Black History Month is a time to celebrate achievements of African Americans past and present. This February we're honoring African Americans who have made their mark on the Entertainment industry with record-breaking moments, first accomplishments, and more. Check out these quick (and perhaps surprising!) facts about African Americans in Entertainment through the years.
1. In 2006, Whitney Houston was named the most awarded female artists of all time by the Guinness World Records.
2. Model Tyra Banks was the first African-American Woman on the covers of CQ magazine and the Sports Illustrated swimsuit issue. In 1997, Banks became the first ever African-American on the cover of the Victoria's Secret lingerie catalog.
3. Oprah Winfrey became the first female African-American U.S. billionaire in 2003. Robert Johnson, owner of Black Entertainment Television, was the first male African-American billionaire in 2001.
4. Michael Jackson created a sensation with the album Thriller in 1982, which becomes one of the most popular albums of all time, selling more than 40 million copies! This opened doors for other African-American musicians, including Prince, Janet Jackson, Lionel Richie and Tina Turner.
5. Halle Berry became the first African-American woman to win the Academy Award for best actress for her role in Monster's Ball in 2002.
6. Jackie Robinson became the first major league baseball player in 1947 for the Brooklyn Dodgers.
7. The day after Martin Luther King, Jr. was assassinated, legendary singer James Brown performed in front of a televised audience in Boston. He's credited with preventing riots with his performance.
8. At the 2010 Grammy Awards, Beyonce Knowles came home with six awards. This was the most wins in a single night by a female artist in the history of the Grammy's.
9. Hip-Hop group Run-D.M.C. became the first rap act to appear on the cover of Rolling Stone. They also were the first African-American group to make a video appearance on MTV.
10. In 1964, Sidney Poitier was the first African-American to win an Oscar for Best Actor for his performance in Lilies of the Field. 
11. On June 30th, 2015, Misty Copeland became the first African-American woman to be promoted to principal dance for the American Ballet Theatre, one of the three leading classical ballet companies in the United States.
12. In 1959, Berry Gordy founded Motown Records, the first record label to primary feature African-American artists. The label helped the career of Marvin Gaye, The Temptations and The Miracles.