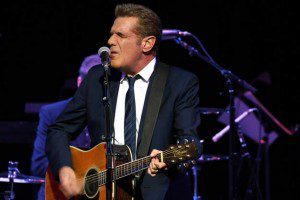 Glenn Frey passed away Monday after he battled complications from rheumatoid arthritis, acute ulcerative colitis and pneumonia. He was 67 years old.
Glenn Frey was a founding member of the rock band the Eagles. Frey co-wrote many of the band's biggest songs, including "Best of my Love,", "One of Those Night", and "Hotel California." Frey played guitar and keyboard and took lead vocal duties for the band on tunes like "Take it Easy" and "Tequila Sunrise".
The band released four number one albums consecutively between 1975 and 1979. The Eagles have sold more than 100 million records worldwide and were inducted into the Rock and Roll Hall of Fame in 1998.
The Eagles broke up in 1980, but Frey saw solo success in 1982 with his release "No Fun Aloud." He also tried his hand at acting with a guest spot on "Miami Vice" among many others.
The Eagles reunited in 1994 for the Hell Freezes Over tour. They continued to tour together over the years.
Many of the band members have reached out to the public to show their sorrow and grief during this difficult time. "He was like a brother to me," band member Don Henley said on Monday. "We were family, and like most families, there was some dysfunction. But, the bong we forged over 45 years ago was never broken, even during the 14 years that the Eagles were dissolved."
Frey is survived by his wife Cindy and children Taylor, Deacon and Otis.