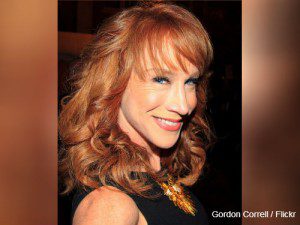 The replacement for Joan Rivers' Fashion Police has been decided. Reports have confirmed that Kathy Griffin will take the place of the late comedienne on the E! show. Griffin will be joined by Rivers' daughter and FP producer Melissa Rivers, as well as co-hosts Giuliana Rancic and Kelly Osbourne. It remains unclear as to whether fellow co-host George Kotsiopoulos will stay on as well – Kotsipoulos remains on E as a correspondent for various other shows on the network.
Joan Rivers' Fashion Police will no longer be aired on a weekly basis, instead it will air only during award shows and other special occasions. Us Weekly reported that a source close to Rivers confirmed, "Joan has always given her blessing to Kathy" and that she "wanted Kathy to be her successor. They talked about it many times," the insider says.
Griffin and Rivers have a similar, in-your-face, sense of humor and were very good friends. Earlier this month, Griffin confirmed to Access Hollywood that she was offered the gig, but said: "I don't know if the situation is correct at this time for me or right for me at this time."
Rivers tragically passed away on September 4th following an unplanned throat procedure at Yorkville Endoscopy in New York City on Aug. 28th.