What do you get with OWN, Tyler Perry, Edwina Findley Dickerson, and a hot script?
Viewers get "If Loving You is Wrong."
"As you could imagine, it's a dream working with these two inspiring titans Oprah Winfrey and Tyler Perry. I've looked up to both of them for a long time. Playing a role in this has really been a dream come true," said Findley Dickerson.
Inspirational, earthy, serious, and funny, Findley Dickerson is a lady anyone mother or wife could have a latte with. And her character Kelly is something many women can relate to, and that is getting their man to commit as a single mom. The show is set in a middle class neighborhood following a group of diverse friends, wives and husbands dealing with affairs, love and heartbreak. It's a wonderful mix of ethnicities, cultures, and backgrounds.
"One thing that I've learned is that while we might all come in different packaging, our hearts are really the same. What I mean by that is it's such a diverse show. There [are] actors from Mexico, and from Columbia, and from the hood of LA, and from Michigan."
Reaching out is important as she travels all over the world to speak. Filming the drama encouraged her to embrace other cultures.
"Many times we tend to stay in homologized groups in neighborhoods, in churches, and in communities that look like us, so I think it's always nice to reach out. Like tonight I'm going to my very first Shavuot dinner with my director [and wife] from a movie I have coming up with Will Ferrell and Kevin Hart [Get Hard 2015]."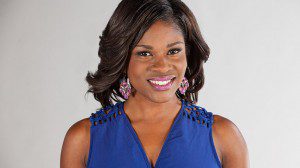 For more on "If Loving You is Wrong" click here.