Lori Loughlin is sticking to her Catholic roots, taking on her first period drama in Vancouver, and yes, possibly reuniting with the Full House cast as Rebecca Donaldson.
Loughlin stars with Erin Krakow, and Daniel Lissing as Abigail Stanton in the Hallmark series "When Calls the Heart" directed by Michael Landon, Jr. based on the popular Christian fiction book by Janette Oke.
The story is set in a coal-mining town during the 19th century. Abigail Stanton works to survive life on the frontier by working as a miner to earn money after her husband, a foreman, and son were killed in an explosion.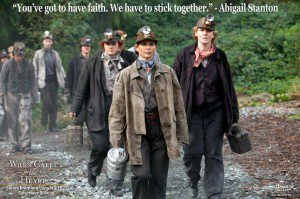 "It's a really nice piece with good morals, good heart, and good story telling. I think the story is contemporary and applicable to everyday life," said Loughlin.Abigail Stanton is working to overcome an incredible tragedy after the loss of her husband along with her son. Loughlin said her character is looking to find her footing again."It's about finding your purpose, having faith, trying to come to grips with a tragedy and move on," she said. "It's about leaning on other women in the community for support, trying to figure out how to start over, and that God has a bigger picture in store for you."
She knows this to be true in her own life.
"I am very spiritual and have a lot of faith in God and a higher power. It's important to believe in something bigger than yourself. I was raised in the Catholic religion and my daughters are being raised in the Catholic religion."
Working with Michael Landon, Jr. was a dream come true for the gal hailing from Hauppauge, Long Island.
"Michael knows how to talk with actors, he knows what he wants, and visually the show looks beautiful. He's just kind. I never heard him raise his voice, and he's a good collaborator."
As for a Full House reunion, sorry to keep you waiting– Loughlin has not received any phone calls, but is very interested in doing the show.
"There's been chatter here and there," said Loughlin. "No official phone calls have been made."
"When Calls The Heart" airs every Saturday night on The Hallmark Channel (pls. check local listing).