Tickets Available Starting July 5 at 1 p.m. ET via TDJakes.org/oprahslifeclass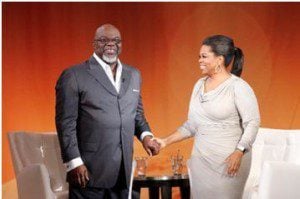 Bishop T.D. Jakes and Oprah Winfrey (left to right) at the Peabody Opera House in St.
Louis, Missouri / Photo credit: © 2013 Harpo, Inc
Los Angeles, CA – Oprah Winfrey will travel to Dallas, Texas to film an all-new episode of her popular OWN: Oprah Winfrey Network series "Oprah's Lifeclass" at MegaFest 2013, Bishop T.D. Jakes multi-day event, at the American Airlines Center in Dallas, Texas on Thursday, August 29.
Tickets to attend the show will be available for purchase starting Friday, July 5 at 1 p.m. ET via tdjakes.org/oprahslifeclass.
Oprah will take the stage in one of the world's most social experiences on television to kick-off MegaFest 2013 at 9:30 a.m. CT. She will be joined by Bishop Jakes and together they will continue the important work of reaching out to the many fatherless sons and daughters who are struggling and in need of healing. Earlier this season on "Oprah's Lifeclass," Oprah and spiritual life coach Iyanla Vanzant started the in-depth conversation around fatherless sons and daddyless daughters, a crisis affecting nearly 21 million children in the United States today*, that elicited a strong and passionate viewer response.
The episode of "Oprah's Lifeclass" will air in September on OWN.
About MegaFest 2013
MegaFest is one of America's largest Christian multi-day events and has welcomed more than 700,000 attendees since its inception in 2004. Past speakers and performers have included Aretha Franklin, Will Smith, Steve Harvey, Dave Ramsey and Cirque du Soleil. This is the first time for MegaFest to be hosted in Dallas. Registration for MegaFest is currently open. Tickets for the three-day men's and women's conferences are $50 per person, while three-day admission to the youths' and children's conferences are $20 per person; discount family and group packages are available as well. For more information, or to register, visit www.mega-fest.com.