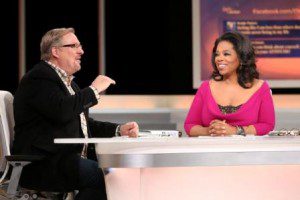 Pastor Rick Warren and Oprah Winfrey
Photo Credit: © 2013 Harpo Studios, Inc.
Los Angeles – Oprah Winfrey and Pastor Rick Warren, author of The Purpose Driven Life, discuss the fundamental concepts explored in his best-selling book in an all-new episode of "Oprah's Lifeclass," the popular series where Winfrey engages with thought-leaders in inspiring conversations about principles that guide our lives.  The episode airs this Sunday, February 24 at 9:00 p.m. ET/PT on OWN: Oprah Winfrey Network.
In part two of Winfrey's conversation with Warren, the two help viewers answer life's biggest questions: 'What on earth am I here for?' and 'What is my purpose?'  They talk about the three levels of existence: survival, success and significance, and how to start living your life with more purpose.  Plus, an update from a former guest on "The Oprah Winfrey Show"who survived being held hostage in 2005 by the Atlanta Spree Killer after reading The Purpose Driven Life. 
Make sure you tune in and watch as life's biggest questions are addressed.