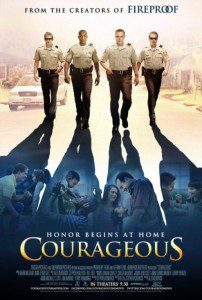 Dad's are awesome! (although, being one myself, I am a bit biased) And if you think your Dad is awesome – no, if you think your Dad is the GREATEST DAD OF ALL TIME!!!! – then we want to hear about it! Just leave a comment below using a valid email address and tell us in as much detail as you want why your Dad beats out all the other dads for that title.
And, if we like your entry the most, you'll be chosen to win a free copy of "Courageous" on DVD! It's the perfect film for this giveaway since it deals with struggles and joys of fatherhood, and how great fathers make big sacrifices for their kids. It's the perfect movie to watch with your Dad (or, if you're a Dad yourself, to watch with your kids), so even if you don't win you should still check it out.
We'll select a winner at the end of January. So what are you waiting for? Tell us why your Dad is the greatest!
P.S. If you're interested in all the rules and legal business, you can read them here.