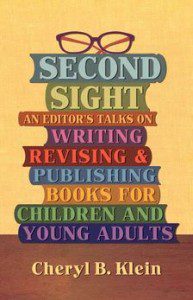 Okay, no she doesn't–not really. But while Cheryl Klein–Senior Editor at Arthur A. Levine Books at Scholastic–may not be a clairvoyant or have the power to see into the future, she does have other powers that might be relevant to your future: if you are interesting in getting a novel published, that is. Klein, who was the continuity editor for the Harry Potter books (yes, she's that big a deal), as well as the editor for many other incredible novels, among them, "Marcelo in the Real World" by Francisco X. Stork (which is my personal favorite), has recently published her first book of nonfiction called, "Second Sight: An Editor's Talks on Writing, Revising, and Publishing Books for Children and Young Adults."
"Second Sight" is a collection of essays that will help you with everything from writing that perfect first line, to developing character and plot, to finding the perfect publisher once you are ready to send out a manuscript (and write that pesky query letter to get their attention). Klein, who describes herself as a "narrative nerd" in the introduction to the book, describes it as follows:
"This book, Second Sight, is a collection of much of my thinking on these narrative and writing topics between 2003 and 2010, as expressed in talks delivered at writers' conferences and posts on my blog and website. The title refers to the service I try to provide my authors — a second, independent look at their work — and to what I hope this book might teach in turn: some methods or principles through which writers can get a "second sight" of their work, to help evaluate and revise their manuscripts and develop their craft as a whole."
Klein talks about the story behind "Second Sight" and her decision to publish the book with PW here. A must-read for anybody hoping to write, finish, and publish that first novel, and for those folks who simply want to improve their story-telling skills with help from a true expert.