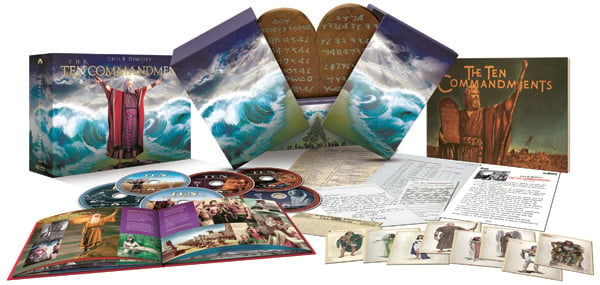 UPDATE: This giveaway is now over. Congratulations to Joshua G. and Lydia B. who each received a copy of "The Ten Commandments" on Blu-Ray, and uber-congratulations to Chris Z. who will be receiving the epic 6-disc gift set to end all gift sets. Enjoy Charlton Heston and the parting of the Red Sea! And thanks to all the Idol Chatter readers who entered. Don't worry, there are more giveaways on the horizon!
"The Ten Commandments" was labeled 'the greatest event in motion picture history' when it came out in 1956. Now, 55 years later, it's coming to Blu-ray (on Tuesday, March 29th) and we have a bunch of free copies to give away to our readers, including one copy of the grand 6 Disc Blu-ray/DVD Combo Gift Set that you see in the image above. I mean look at it: it features an image of the Red Sea that parts when you open the box! Who doesn't want that?
All you have to do is leave a comment on this post and include a real email address (don't worry, your email will be kept private and will ONLY be used to notify you if you win). Here's the skinny on what comes in the epic gift set to end all gift sets:
THE TEN COMMANDMENTS Blu-ray/DVD Combo gift set comes packaged in a stunning limited edition box featuring an image of the Red Sea that parts when the box is opened to reveal two tablets, which encase all six discs in the set. The set also includes a commemorative photo and archive book, a new 75-minute, in-depth documentary about the film and its impact, original costume sketches, the 1923 silent film The Ten Commandments (also available for the first time on Blu-ray), international premiere photos, production notes from Cecil B. DeMille, correspondence from Charlton Heston, feature commentary and more.
In addition to that, we're also giving away two copies of the 2 disc Blu-ray edition. So that's 3 chances to win, and all you have to do is write one little comment! We'll announce the winners a week from today on Monday, April 4th. Oh, and this is only open to residents of US and Canada, unfortunately.
Good luck!