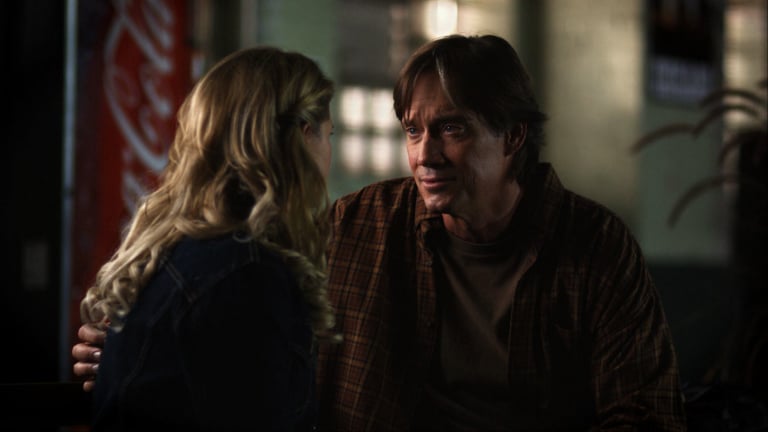 Dallas Jenkins has been making films professionally since he was only twenty-five years old when he produced "Hometown Legend" through the film company he founded with his father, author Jerry Jenkins. He directed the Christmas drama "Midnight Clear" with actor Stephen Baldwin and now has a new family drama out called "What if…" that is rolling out across the country in the upcoming weeks. In the style of "It's a Wonderful Life" and "The Family Man" it's a movie about second chances as a successful businessman (Kevin Sorbo) is helped by a cranky angel (John Ratzenberger) to see there might be a different, better path for his life.

I caught up with Jenkins recently in between promoting his film and starting a new venture – developing new media for megachurch Harvest Bible Chapel – to talk to him about his movie as well as the state of Christian film in Hollywood.
How did you come to be involved in this project and what attracted you to it?
I had seen the success of "Fireproof" and "Facing the Giants" and was tired of my own frustrations with my films; I had been trying too hard to develop a new kind of market, one the studios and audiences just weren't that excited about. I thought I needed to stop fighting the system and just make a film that would be more audience-friendly, one that would appeal strongly to the Christian market, but that would perhaps raise the quality bar. This script was absolutely ideal, and along with the fact that it has a similar storyline to my favorite film of all time, "It's a Wonderful Life." The choice was easy.
So explain your new role at Harvest Bible Chapel and how it fits with your goals and vision for creating Christian-themed media? What was the decision process in taking on this new role?
I've always been passionate about the church being more engaged with popular culture, but I didn't believe the church was all that passionate about it. So I went to L.A. because Hollywood seemed more willing to engage with the church than vice versa, but I never lost my love for the church. I almost felt like a jilted boyfriend who hadn't gotten over his first love. So when Harvest Bible Chapel came to me and said, "We want to make movies and combine our resources with what you do," it was a perfect fit. It's the culmination of what I've worked for and experienced my whole life. I think in a few years, there will be multiple films from churches per year.

It seems there has been more commercial success for Christian films such as "Facing the Giants" and "Fireproof" but do you think the quality of the storytelling and production is improving ?
Improving, yes. We still have a long way to go. I think we're a few years behind Christian music in that regard. But for some faith-based companies, they're not obsessed with quality, and that's okay, that's their thing. At Harvest, we'll be a bit more connected to Hollywood and the top actors and crews we can find and will have a big emphasis on training some of our members to be the best in their respective fields.
What has and hasn't changed about your approach to filmmaking since your first film "Hometown Legend"?
My work ethic and how I deal with people hasn't changed much. But as a filmmaker, quite a bit has changed. I've really worked very hard at the CRAFT of filmmaking, particularly on the visual side of things. What If… is the result of thousands of hours of study, movie watching, talking to filmmaking mentors. I still have a ton of work to do, and I'm not saying What If… is perfect, but I think there's a strong difference.
Do you sing in this movie? You seem to have a habit of doing that in all of your movies!
Yes, I work a song into all my films, usually in an unobtrusive way. In this film I sang a country-style hymn that plays on the radio of Mike the Angel, John Ratzenberger's character.