Originally published June 25, 2010, we are reposting this entry in light of last night's emotional "Deadliest Catch" in which the news of Captain Phil's death was shared with the rest of the crab fishing fleet. Share your thoughts on the episode and your memories of Captain Phil here with other fans.
---
Last night's "Deadliest Catch" featured the what would eventually prove to be fatal stroke of
Cornelia Marie
captain Phil Harris. It was also the most watched episode of the Discovery Channel reality show ever, pulling in 5.4 million viewers. Now I'm a cynic, but I'm nowhere as cynical as New York Magazine's "Vulture" blog contributor Willa Paskin who flippantly
wrote
, "Well, we can expect more deaths on reality TV now!"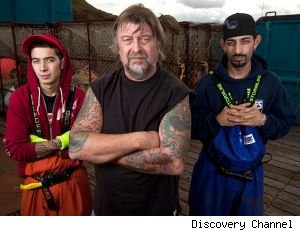 The fact is, Ms. Paskin, that viewers have grown to adore the hard-living, hard-working men of the crab-fishing fleet featured on the show and it's fitting that fans who may have drifted away from the show return to bid captain Phil bon voyage.
While the channel has come under fire for what will be an intense focus on Phil's failing health and eventual passing, Discovery Channel President and General Manager Clark Bunting
explained to
Entertainment Weekly
that the coverage doesn't cross any lines and is in fact imperative to the narrative.
"The storyline for Deadliest Catch is about the full arc of Phil's life," said Bunting. "It's the full arc of going through not just what happened to Phil and the boys, but also the rest of the fleet, the captains sharing their experiences, and them becoming aware of the tragedy that happened."
Talking about Phil's life in terms of storyline may seem as cold as the Bering Sea the men fish in, but Harris himself saw the value to good storytelling as Todd Stanley, the
Cornelia Marie
's long-time camera man and friend of Harris
told
The New York Times
.

"We always talked about [a story] having a beginning, a middle and an end," he recalled. "Without one of those three things, you don't have a story."
After waking from a medically induced coma, Harris reportedly slipped a note to Stanley asking him to "keep filming" as there "has to be an end to this story."
The paper reports that Josh Harris, Phil's elder son, "was adamant that the consequences of the stroke should be shown, adding that the producers 'were very sensitive' about filming."
While I could have done without the gratuitous shots of the raven and the dirge-like string music accompanying the shots of a stretchered Phil being hoisted off the deck of his ships, I thought the producers handled it tastefully and truthfully.
What did you think of the episode? Will you miss Captain Phil?