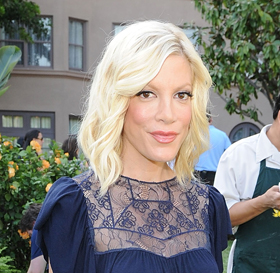 Remember that scene in "Ghost" where "medium" Oda Mae Brown (Whoopi Goldberg) tries to make contact with a woman's husband, but instead (to her surprise–since she was faking her "abilities" the whole time) she contacts the newly dead Sam Wheat(Patrick Swayze)?

That's what I imagine the scene was like when actress/reality TV star Tori Spelling had a sit down with psychic John Edwards in an attempt to contact her father Aaron Spelling but instead spoke with his "Charlie's Angels" star Farrah Fawcett.
In an
interview with Access Hollywood,
Spelling revealed that she was shocked to contact Fawcett–
who passed away last year after battling cancer
— but received messages from her and was asked to pass them along to Fawcett's family, longtime companion Ryan O'Neal and son Redmond.
Spelling said she did write O'Neal a letter with the information Fawcett gave her, which apparently contained very specific details about her life that Spelling wouldn't have known–but hasn't heard back from him. She says she hopes he doesn't think she's crazy.
What do you think?
Photo credit: Jason Merritt/Getty Images