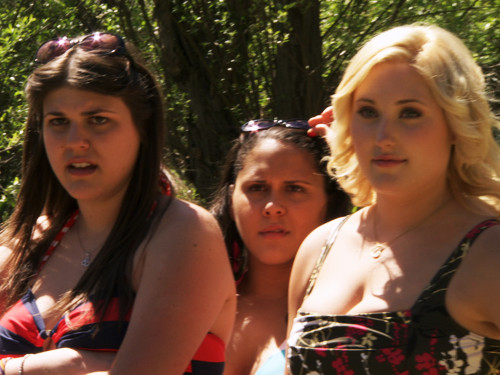 As fellow blogger Donna recently pointed out, the ABC Family Channel has become something of an oxymoron, a vast wasteland as the New York Times puts it. But as if to make up for the drivel that is "The Secret Life of the American Teenager" or the raunch contained in "Pretty Little Liars," the folks at ABC Family have finally given us a funny, smart show that teens and adults can watch together and relate to equally. The drama "Huge," which premiered last night , isn't too heavy – pun intended- for summertime viewing, but it also does a great job of attacking body image issues in a thoughtful, but still whimsical manner. Of course, best of all, it brings "Hairspray" actress Nikki Blonsky back into our lives.

A series centered around a fat camp for teens could fall into all kinds cliches and stereotypes and certainly there is opportunity with this premise to be preachy.For the most part though, "Huge" , which is written by "My So-Called Life' scribe WInnie Holzman and her daughter, avoids those problems and is a heartwarming show about feeding your spirit more than it is about worshipping – or hating -your body.

Nikki Blonsky plays Wilhelmina, a teenager who has no interest in attending Camp VIctory. No, her parents have sent her there agains her will. On the other hand, many of the other campers can't wait to return to the camp as it is a safe haven against a skinny world where they don't fit in. But "Will" doesn't take long to stir things up by doing a strip tease on the first day of camp and later providing a blackmarket source of junk food for hungry campers.
Okay, maybe that does sound just a tad stereotypical, but what kept my interest while watching "Huge" were the smaller moments. There was a nice scene in a diner, for example, where Will overhears the camp director having a conversation with her father. In that moment, Will realizes that even the super skinny, model like camp director has issues that are just like her own. Those moments balance the occassionally broad moments of humor on the show.

With Blonsky at the forefront of this series, there is also the promise of her singing on the show, something I would love to see happen. Blonsky has also hinted that sexual orientation is going to be an issue on the show as some campers take her no muss, no fuss look to mean she is probably a lesbian, an assessment that surprises Will. That to me is another promising choice that would make the show not just about weight loss, but about quick judgments, inner acceptance and self-reflection.
Could it be that "Huge", with a little time, could become a close relation to one of my favorite shows, "Glee"? I don't think any show can rival "Glee" but it's nice to think this show might become a distant cousin to "Glee" in terms of charm and inspiration.For now, let's say I am hopeful "Huge" will remain worth watching.