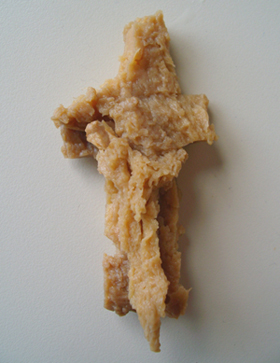 It seems like images of Jesus and other holy figures have been appearing on all kinds of food lately–grilled cheese, pierogies, tortillas, just to name a few.
Which is why I was skeptical, yet intrigued, when I received a press release yesterday from People for the Ethical Treatment of Animals (PETA) claiming that a member spotted an image of Jesus in another food product–seitan (pronounced "satan"–which is kind of ironic, no?), the vegan "wheat meat."

The member, who sent the email and photo to PETA President Ingrid E. Newkirk, wished to remain anonymous, said he/she found the image as he/she was preparing to grill up the wheat gluten, removing it from some plastic wrapping.
According to the press release the member wrote:
"I couldn't beleive [sic] what I saw! Its [sic] Jesus on the cross! I was showing it to my room mates and one of them said, "You're all about PETA, send it to them!"…Thought it was a real sign for this image of Jesus to appear in my peaceful vegan meal–He was the one who said "Thou shall not kill" and I know He would be against bloody killing of animals in slaughter houses.
I hope this picture of Jesus in my seitan lifts your spirits and encourages you to keep up the good work."
So what do you think? Genuine Jesus or publicity hoax?
For more edible images of JC, check out our
Jesus in Food gallery