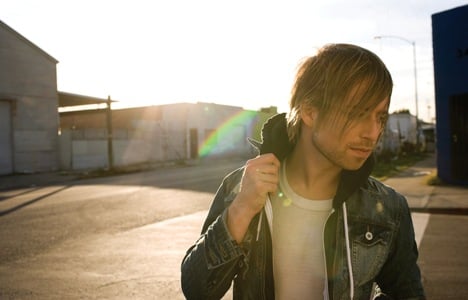 Bryce Avary is The Rocket Summer: a multi-instrumentalist who has played almost every note of his four albums full of unapologetically spiritual, upbeat pop. His latest, "Of Men and Angels," shows an darker side to Avary, where he depends on his Christian faith to get him through tough times. We talked to him as he got ready to head out, accompanied by his road band, with OneRepublic and The Goo Goo Dolls before taking up with the Vans Warped tour.

A lot of people when they hear The Rocket Summer think, "Happy guy, happy music." But the new album, "Of Men and Angels" didn't strike me as your usual optimism.
I think it's actually a really hopeful album. I mean, it touches on struggles more than my other records have, just because in the past couple of years, I've endured more of that. It was kind of a hard season, to be honest. But if you really delve into the lyrics, I think you'll see it's very hopeful.
I was counting the times you used the word mess on the new album.
Mess? Really?
Yeah, "Stop the crap and clean the mess." "Pretty mess with a pretty voice." I kept thinking, "This guy's been through some stuff since the last time we heard from him."
That's for sure. That reputation that I have of just being like this candy cane-licking, bubbly, happy-go-lucky kid is beyond me a little bit. My last record had those moments, too. "Tell Me Something Good" is a dark song about being in a bad place. And "Waiting" is about not being able to forget being upset. I think I'm actually singing about the same kind of stuff. It's just maybe the vibe is a little bit different. The music is a little less, like, ridiculously poppy.

The other thing that comes across is an ambivalence about fame and about the rock 'n roll life. Is that something you're getting more accustomed to?
That was something that came up a lot when I made this record, because it was a very spiritually charged album for me. It was a season in my life when I was letting God sort of find me in a lot of ways. That song, "Of Men & Angels," where I sing about, "Here I am, dear Lord, tasting hints of fame and I don't want it anymore if it's not you that I gain"–it comes from the Bible verse. That truth is very heavy on my heart with this record. Of course I would love to have a huge record, but I don't want that to drive me. That corrupts you–not fame or whatever, but striving for that. There's a lyric on the album that says, "I can't believe I spent so much time just trying to get to the next place."
You're going on the Warped tour. You've been out with them before. As a Christian, do you find yourself removed from the rest of the bands?
It's weird, because Jesus Christ is the biggest and most important thing in my life, and naturally that comes out in my music. But honestly, we've never really been in the Christian market. We've always been a general market band that just happens to be very spiritually charged. You work with people who aren't believers and that's what life is. We have fans that say, "I don't even believe in God, but your music means more to me than anything."
The song, "You Gotta Believe," though, seems to be a response to someone who has judged you for your faith.
Well, I am kind of an odd man out half the time, more than half the time. That song is about standing up for what you believe in, about how it feels to be in that boat that I'm in.
Do you see down the road working with artists?
I like the idea of starting some supergroup eventually. That would be so awesome, but all in time.