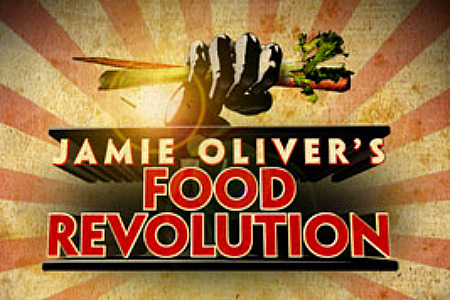 I checked out "Jamie Oliver's Food Revolution" last Friday looking for some extra motivation to curb my worse-than-usual eating habits of late. However, in comparison to movies like "Food Inc" or "King Corn," I found the show to be more of a lightweight version of "Supersize Me" than anything else. Then Jamie introduced me to Pastor Steve Willis. Pastor Steve is the minister at First Baptist Church Kenova and is Jamie's primary ally in trying to turn the unhealthiest community – Huntington, West Virginia -in America into a healthy one. Hmmm…a reality show that decides to blend godly wisdom and physical health – well , that is one refreshing idea. I decided I had to stick around, watch a little bit more of the show and I then I decided to learn a little more about Pastor Steve.

Seems Pastor Steve was preaching the benefits of treating our bodies as temples even before Jamie Oliver showed up – which is exactly why he was one of the first people the series enlisted to help them make the show work. In last week's episodes, Pastor Steve told Jamie that Oliver was doing God's work and that God had a plan for Jamie's time in Huntington with a sweetness and earnestness that could have offended no one.
But here's the best news: Pastor Steve has backed up his words with action. Now that the show has left town – even though several episodes of the series have yet to air on ABC – the local clergyman has continued the work Oliver started. He is helping out with a new health task force in his hometown while continuing to promote the TV series – as well as his own sermon message on the spiritual importance of a healthy lifestyle – on his church's homepage.
Could it be that this is the one reality show that is not offering a quick, simple fix and instead is promoting community involvement so there will be a positive impact long after the cameras stop rolling? Well, I can't give that anything but a five star review.